Crowdfunding Asia launched their inaugural crowdfunding convention this past August.  It was the first event of its kind in the entire Asian region gathering thought leaders, portal operators, high level politicians and public officials from around the world to convene to discuss this new approach to capital formation.  The highly successful event was organized by PhoenixICT based in Singapore and led by CEO and founder HongSin Kwek. Since the widely lauded event took place in Singapore she has been traveling across Asia to expand the reach of her message regarding the power of crowdfunding.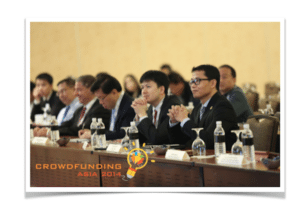 For 2015 the following events are on the calendar for the Crowdfunding Asia Summit:
Bangkok, Thailand  February 2015
Beijing, China  March 2015
Bali, Indonesia  April 2015
Phuket, Thailand May 2015  (ASEAN Committee of Science and Technology)
Kuala Lumpur, Malayasia June 2015
Singapore  August 2015
Crowdfunding Asia has a mission of raising awareness and spreading the "crowd wisdom" across the region.  The first well attended event has generated buzz and access within the Asian region.  Several Asian governments see crowdfunding as a way to incorporate a more efficient allocation of capital to assist in making their emerging economies more competitive on a global scale.  Recently Malaysia proposed investment crowdfunding regulations – a movement that was aided and supported by the Securities Commission.
Several Asian countries are coordinating directly with PhoenixICT now to assist in the process of enacting a crowdfunding ecosystem that benefits both innovators and governments.