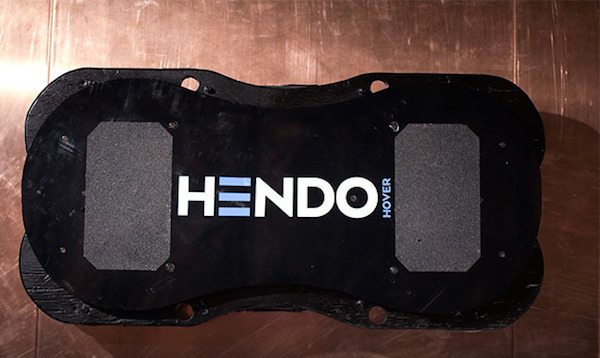 It's FINALLY happening! On Tuesday (October 21st),  an ACTUAL hoverboard officially hit the crowdfunding giant, Kickstarter! Not only has it become super popular with the Back to the Future fans (myself included), it has also achieved its initial $250,000 campaign goal within only two days!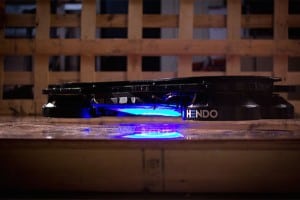 For those who have seen Back to the Future II, the hoverboard has always been a dream that has been almost unreachable. From constantly inventor attempts to MythBusters even exploring the idea. But now, Silicon Valley startup, Hendo, is ready to bring its hoverboard to life, just in time for October 21, 2015 (the date Marty McFly traveled to and used the board to escape from bullies).
As previously reported, Silicon Valley startup Arx Pax hit Kickstarter with its brand new hoverboard and hover developer kit called Hendo. The magic behind the hoverboard lies in its four disc-shaped hover engines. These create a special magnetic field, which literally pushes against itself, generating the lift which levitates the board off the ground.
While the hoverboard is primarily intended to be self-propelled, the actions which stabilize it can also be used to drive it forward by altering the projected force on the surface below. The team shared, "The hoverboard is simultaneously fascinating and exhilarating. The enabling technologies existed, but no one had yet been able to align them to bring a hoverboard forth. Hendo has done so, and our hoverboards are working in almost every way we could have imagined. But perfecting it will take a little more time and resources."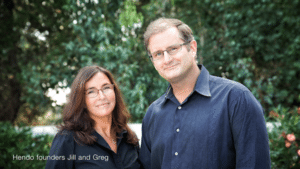 Founder and inventor Greg Henderson stated, "About two years ago, we began investigating MFA and hover technology as a better way to build, move people and move materials. During our research, we discovered a way to transmit electromagnetic technology that is far more efficient than anything else. This means that our patent-pending Hendo Hover Engine technology can enable platforms to hover over non-ferrous materials with payloads of virtually any size and weight.
"While the possibilities are both exciting and nearly limitless. We decided to build a overboard prototype and hover engine developer kits right out of the gate. Our hope is that the Hendo Hoverboard will generate excitement, enthusiasm and financial interest from people who want to see it brought to fruition, and that our hover engine developer kits will spark the imagination of millions of potential inventors of other hover technology solutions. It is still early days, but we are absolutely thrilled because we have proven conclusively that what was widely considered impossible is, in fact, possible."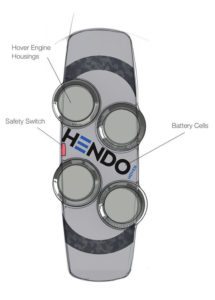 During a recent interview with the New York Times, Henderson revealed that he became enamored of hover technology in 1989, but his inspiration was not Back to the Future, but the Loma Priesta earthquake. His idea was that if you could make building float, you can build cities to better withstand earthquakes.
The business plan is to develop magnetic technologies and license patents to builders, engineering fires, even the Green Goblin and anyone else who might need to hover something.
Although he may be considered a dream, Henderson believes that people are likely to be more interested in hovering skateboards than they are in his idea of constructing new kinds of building foundation. "That's why we picked the hoverboard: to capture that attention. If one in 10 people realize there is another use for this stuff, that would be a great success."
Those interested in the hoverboard may purchase it through Kickstarter the expensive, but slight understandable, price of $10,000. Since its launch, the campaign has so far raised $310,387 from 1,659.
_________________________________________
Have a crowdfunding offering you'd like to share? Submit an offering for consideration using our Submit a Tip form and we may share it on our site!