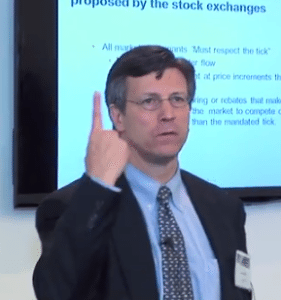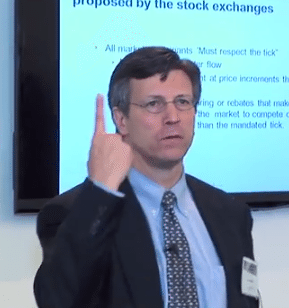 David Weild, former Vice Chairman of NASDAQ and current CEO of IssuWorks, made an appearance at the offices of Pepper Hamilton last week to discuss capital formation for small businesses. The event was organized by Dara Albright, a vocal advocate of crowdfunding and a leading voice on the JOBS Act. Weild started his presentation by stating he is a plain speaker and not one to mince words. With that out of the way, he jumped right into it declaring;
"NASAA is doing incredible harm to the economy and they need to stand down"
The North American Securities Administrators Association (NASAA) is a special interest group that represents state securities regulators.  Ironically they have taken an anti-business / anti-investor approach by attempting to block Title IV of the JOBS Act – otherwise known as Reg A+.  NASAA has been aggressively lobbying the halls of Congress and has hired high powered attorneys to stop state Blue Sky Pre-emption for certain private placements.  It is a truism that small business creates the vast majority jobs in the US and is thus the engine of economic growth.  In addressing NASAA's concerns, Weild aptly points out that state regulators will continue to have anti-fraud laws which they can use but calls their present stance "laughable". Weild states;
"If you want to stop all fraud lets just stop all business …We all know that is not the right answer".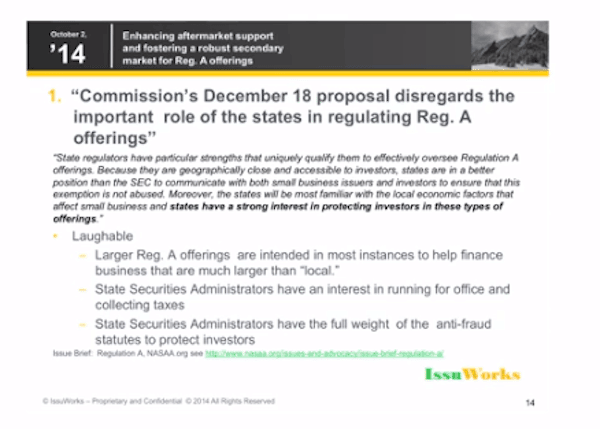 Weild recognizes that small business is the bedrock of the economy and the future of this nation and that "NASAA should be ashamed of themselves".  He also notes that "Most entrepreneurs are honest people and you don't keep honest people from raising money". Weild proclaims that NASAA's attempted interference in blocking good policy for parochial reasons is;
"…not in the best interest of the country for them to assert jurisdiction and get in the SEC's way here.  Just isn't."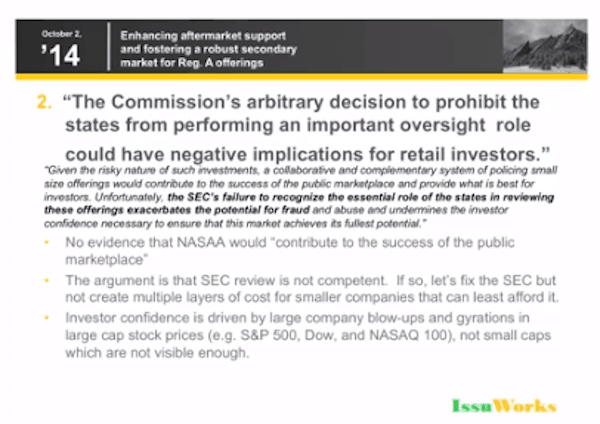 While there are clearly members of NASAA that disagree with this anti-business policy for now the group has paradoxically taken a position that is to the detriment of the economy. Weild also tackles other issues that are in need of regulatory change, including tick size reform, that are bogging down small cap IPOs.
For any individual who is pro-economy and pro-small business – this is a must watch video.