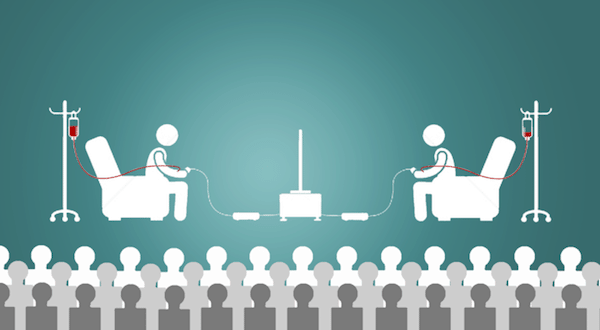 Last week, co-founders of Canadian-based company Blood Sport launched a crowdfunding campaign on Kickstarter to raise $250,000 for its new self-titled gaming system known. The description of the system is pretty much self-explanatory, with Blood Sport, the programmers take the consequences of the gaming world and have them actually affect you in real life. That's right, every time you get injured in a game, blood will be intravenously drawn from your arm.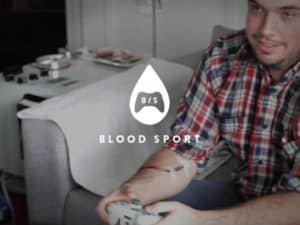 Using the rumble pack as an example, the creators noted that all they are doing is re-routing the same electrical signal that the player would feel when using a rumble controller and using it to turn on a blood collection system.  They noted,"Using just two wires, we're able to connect your controller to the blood collection machine through an Arduino Board."
"The Arduino Board has two jobs: One, to keep the signal going to the blood collection system and, two, to keep track of how much blood is being pulled so that Blood Sport powers down before you do. We've done this by allowing you to input your age, weight, and any pre-existing medical conditions."
The Blood Sport team noted that they were aiming to start touring in Canada starting March 17th, which is around the time of Battlefield Hardline's release, in an effort to stir up some hype. "But we don't want to rely on Battlefield alone. To get people really excited about this initiative we'll need to draw on every outlet possible. So, aside from pledging, please be sure to challenge your favorite gamers and celebrities to come and participate. And, mostly importantly, to see if they can handle Blood Sport."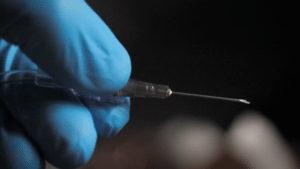 The team wanted a few celebrities to experience the gaming system such as Conan O'Brien, Jimmy Kimmel, Snoop Dogg, and Seth Rogen.  They wish to team up with various organizations throughout the country."Our goal is to develop a refined multi-player unit that can be taken across the country for blood donation gaming events. We are not a charity and we are not a game manufacturer. We are simply creating the gaming hardware that will allow us to get gamers thinking about more important issues while still doing what they love. From there, we'll partner with the appropriate organizations in both the gaming and medical communities to bring it all to life.
Although the project seems to be getting off on the right foot, raising nearly $4,000 first week, Kickstarter suspended the Blood Sport's campaign on Monday (November 24th). While there has yet to be a reasoning as to why the crowdfunding giant decided to pull the plug on the gaming system, CNET caught up with co-founder Taran Chadha to discuss the situation.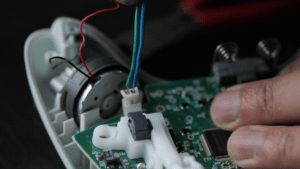 "We genuinely want to bring attention to and help blood donation in Canada with our project if we can," he explained. "Our guesses are that perhaps [the suspension] has to do with our tie-in to medical equipment or charity, or safety concern since we're not officially partnered with a blood clinic yet (but we're working on that)."

Chadha also revealed that Blood Sport is meeting this week with representatives of blood-donation organizations to discuss partnerships. He shared that he would like to "motivate the gaming demographic into getting involved in donations through our project."

________________________________________________________

Have a crowdfunding offering you'd like to share? Submit an offering for consideration using our Submit a Tip form and we may share it on our site!

Sponsored Links by DQ Promote