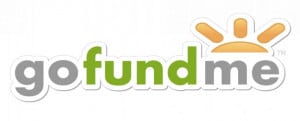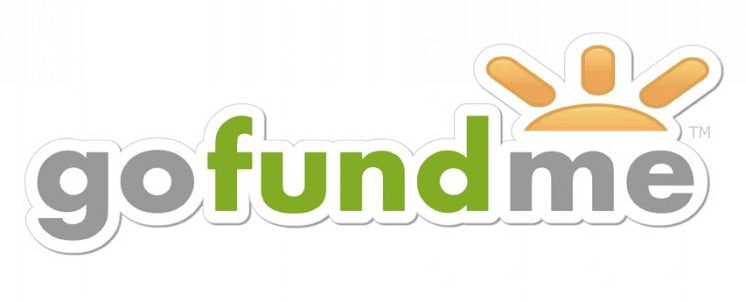 Kicking off the new year in the best way possible, San Diego-based GoFundMe revealed it raised over $156 million during its 2014 fourth quarter, which brings the total number of donations for the year to $470 million, making it the world's largest crowdfunding platform. This news comes just after its rival, Kickstarter, reflected on 2014 and revealed its backers raised $444 million for various projects.
According to UT San Diego, GoFundMe stated the fact that anyone can raise money on its platform, for any cause, helped it pull ahead of Kickstarter, one of the firms that first popularized crowdfunding. Kickstarter's platform is designed for people hoping to raise money for creative projects, but GoFundMe focuses on giving people the power to raise money for personal causes and life events. The site's most popular categories are medical, education, emergencies, volunteerism, memorials and sports, and most of the money raised is between family and friends. Its most popular campaigns right now include helping a house fire victim get shelter and covering the vet bills for a cat suffering from heart disease.
Co-founder of GoFundMe, Brad Damphousse announced in a statement, "It's incredible to see all amazing ways people are using GoFundMe to make a difference in the lives of others. We feel very fortunate to have a front row seat to an ever-increasing number of uplifting, inspiring, and successful fundraising campaigns.

"GoFundMe's intense focus on exceptional customer experiences is what sets us apart. Our competitors have taken tens of millions of dollars in venture capital and employ hundreds of employees. We have stayed small, focused, and committed to serving our customers better than anyone else.

"We have seen our business grow approximately 300% per year every year since we started GoFundMe and it is a testament to the power of crowdfunding. What matters are the causes that people are raising for; these are deeply personal life events that resonates with donors. It revolves around the stories we tell, the lives we share, and the communities we try to build. Given all of this, we believe that the future of GoFundMe is boundless."
Since its launch in 2010, GoFundMe has raised $650 million from 9 million donors and continues to be one of the popular  platforms to launch crowdfunding campaigns. GoFundMe also makes it easier for others to give by not having deadlines or goals for each project.
Tech Crunch also reported that Kickstarter has confirmed the "successful dollars" in 2014 summed to $444 million (out of the pledged $529M total). Its total cumulative successful dollars figure since the platform launched is $1.27 billion. A spokesperson for the crowdfunding giant revealed,"It took about five years to get to a billion and in 2014 alone we did nearly half of that."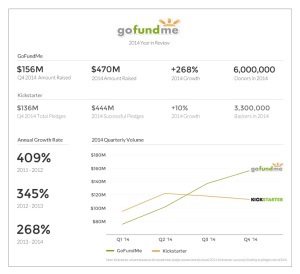 Sponsored Links by DQ Promote