One week down, nearly three more weeks to go! The Oatmeal's Matthew Inman has been super busy continuing to promote his already Kickstarter success card game, Exploding Kittens.Now the project is nearing $4.3 million on the crowdfunding giant's platform and has been dubbed the "The Most Backed Campaign in Kickstarter History."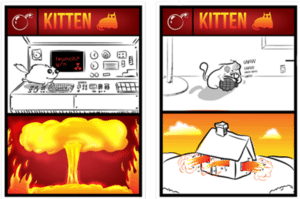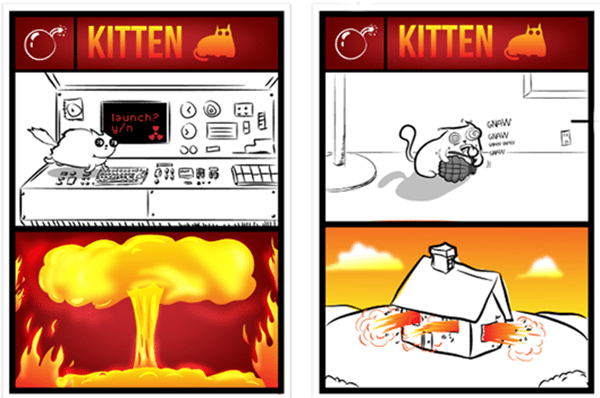 As previously reported, Inman teamed up with Xbox's Elan Lee and Shane Small to create the hilarious (and slightly offensive) card game. According to the project's description, Exploding Kittens is a highly strategic kitty-powered version of Russian Roulette. Players take turns drawing cards until someone draws an exploding kitten and loses the game.
The rather graphic violent deck is made up of cards that give the game's player a chance to avoid the kitty explosions by peeking at other cards before they draw, forcing their opponents to draw multiple cards, or shuffling the deck.
But it gets better, the game becomes more and more intense with each drawing of cards because every turn draws the players closer to the bottom of the deck – and closer to explosions and kittens.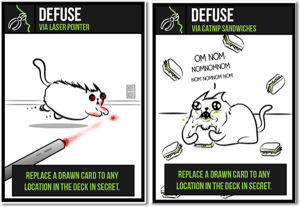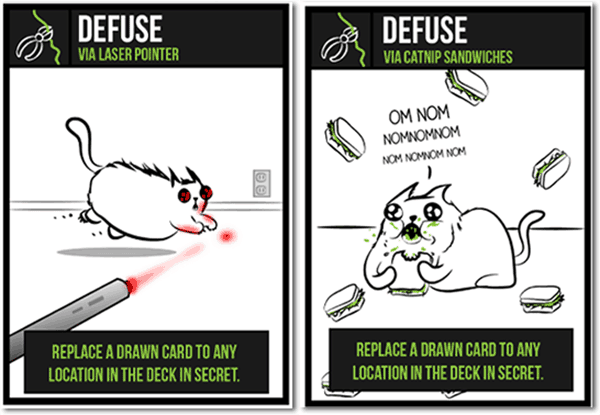 Now, Inman is ready to share his reaction to the project's quick success. During an interview with CNET he stated, "I didn't expect this. None of us did. I mean it's been the kind of thing that I'm so excited about this project that I don't sleep. Like, I lay there at night, just vibrating with joy of what's happening."
Sharing why he created a game about exploding felines, Inman recalled, "Well, when we were playing the game [originally called Bomb Squad], the whole game you worried about the bomb, where is it? Like who has the bomb? Am I going to get the bomb? There's all this stress and fear of the bomb. And I thought it would be a lot funnier if you were just fearing a kitten because then the conversations while playing the game is 'Where's the kitten?' 'Please don't let me get a kitten.' And I love that.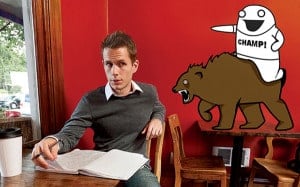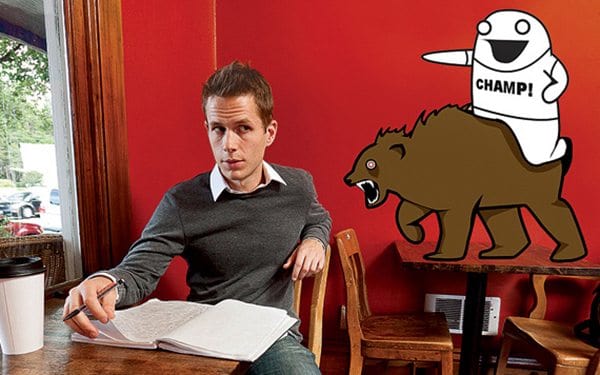 "So we kind of struggled with it because the title was funny, but we're also, like, blowing up cats, which people are not super into that. We did have some [moral issues]. When I first drawing the cards, I made the cats the bombs themselves. But it looked kind of like an Angry Birds game because you've got these cats that had fuses coming off of them. And then I tried the cats just being suicidal and just blowing themselves up. But that still didn't really feel right.

"So what finally ending up working was the cats just killing themselves out of negligence. In the few of the kitten cards, the kittens are doing some stuff like run across the keyboard of a submarine and launched nuclear bombs or gnawing on a stick of dynamite and blowing up a pirate ship. So they were doing things that kittens naturally do."

Check out the rest of the interview below!

Have a crowdfunding offering you'd like to share? Submit an offering for consideration using our Submit a Tip form and we may share it on our site!

Sponsored Links by DQ Promote