Crowdfunding on Indiegogo, Storm eBike has zoomed past $3.1 million thanks to over nearly 1,400 backers.
Storm is an all terrain bike that incorporates a high density lithium ion battery that will power you up to speeds of 20 miles per hour and up to distances of over 30 miles on single charge.  No worries though if you run out of juice because thats when pedal power kicks in.  And the price point is pretty amazing at $499.  Compare that to regular bikes online – much less one that comes with its own electric engine.
As previously reported, in a recently published article on Yahoo, the author questioned the validity of the eBike claims.
"You can build an e-bike in China and sell it for $500, but it won't be very high quality, says Ann McSpadden, proprietor of Alien Scooters, a retailer of electric vehicles outside Austin, Texas."
Warren Pollock, an entrepreneur who has worked with Chinese e-bike companies is quoted saying:
"At $500 apiece," he says, "the company would be selling e-bikes at a loss, once they factored in product liability insurance, quality control, regulatory compliance, safety testing, and post-sales service and support. Chinese e-bikes could certainly 'leak' into the U.S. market near that cost, be sold as a loss leader, or be marketed directly on eBay, but a fully costed business model could potentially lose up to $250 per bike."
Responding to the accusations, the Storm team announced: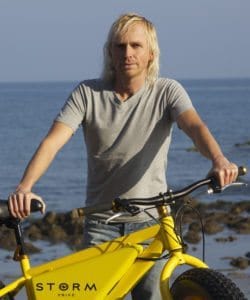 "There has been a lot of speculation about the bike over the past few days and we want to assure you that it is real, it exists and it is quality.We feel the best way to address this is to invite our backers, potential future backers and those naysayers out there to test the bike for themselves.
"We are pleased to announce that the first Storm eBike Demo Day is on Sunday, February the 15th in Santa Monica, CA. We plan on visiting other Southern California cities soon. Stay tuned for the latest demo days.
"This is the easiest/ funnest way to put an end to the speculation."
Despite the speculations, the Storm team has received an overwhelming amount of supporters that have RSVP'ed to the high-anticipated Demo Day. In the latest update, the team shared:
"WOW! Thanks for the huge response to the Demo Day! Unfortunately, we had to cap the number of event tickets on Eventbrite, but please continue to click on the event below to show your interest in attending.

"Early next week, we will confirm final attendance numbers with those who ordered Eventbrite tickets. After that, we will open up the event to our current backers and then to those who potentially want to pledge for an eBike.

"The overwhelming response simply means we may schedule demo days once each weekend going forward in select cities throughout Southern California. If you would like to request a Demo Day in your city, CLICK HERE to leave us a comment with your city.

"We will update all of you directly on the Facebook event page about the next steps and ticket availability. As for those who requested the ticket through Eventbrite, please check your email early next week for details on location and to confirm your attendance."
Have a crowdfunding offering you'd like to share? Submit an offering for consideration using our Submit a Tip form and we may share it on our site!