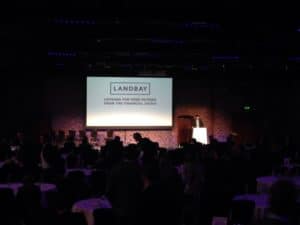 Landbay has appointed Robert Burgess to its Board of Directors. He will join co-founders John Goodall and Gray Stern as well as Chairman Tony Ward. Burgess brings over 20 years experience in retail finance having previously held positions at Alliance  Trust, Lloyds TSB, Scottish Widows and Thomas Cook. Burgess was the co-founder of Exchange Associates; the first dedicated lender and provider of permanent investor capital to the peer to peer lending industry. Since forming in 2012 Landbay has already brought CEO of Amicus PLC John Jenkins; Hans Geberbauer, CEO of mortgage lender and servicer Paratus AMC; and senior finance executive Julian Sutton onto its board of directors.
"The appointment of an original peer-to-peer pioneer and retail finance stalwart to the board of Landbay is a significant step forward." said Tony Ward, Chairman of Landbay. "Robert brings with him a sense of innovation and passion for the disintermediation of the traditional Banking model, whilst providing decades worth of retail financial services expertise. His recent work with the peer-to-peer sector is also highly valuable to us."
Burgess was quoted on his new appointment;
"I am hugely looking forward to working with the strong and ambitious team at Landbay. Their model of coupling the security of the buy-to-let mortgage market with peer-to-peer technology looks set to be a huge hit in 2015 and beyond."
Landbay is a peer to peer lender that target the buy-to-let mortgage lending sector. The platform lends to professional landlords who are seeking to purchase rental property. Landbay ran an equity crowdfunding campaign on Seedrs in 2013 where it successful raised capital to launch its platform. Landbay is also a member of the Peer-to-Peer Finance Association in the UK.