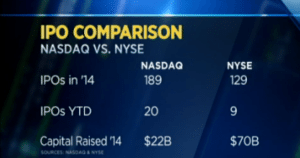 Nasdaq CEO Bob Greifeld spoke briefly on CNBC today about the "institutional battle" between the NYSE and Nasdaq in regards to the number of IPOs.  For the record Nasdaq chalked up 189 for $22 billion raised in 2014 while the NYSE listed 129 for total of $70 billion raised. So for this year, if it was a race, Nasdaq is far in the lead having posted 20 IPOs versus only 9 on the NYSE.
Greifeld is of the opinion that not all companies should go the IPO route. What is skipped over is the decline in the number of IPOs due to the crushing amount of regulations and associated costs.  The private markets have boomed though as many companies avoid going public for as long as possible due to the level of regulatory scrutiny.  Private market issues neared $1 trillion in 2012:  Compare that number to the $90 some odd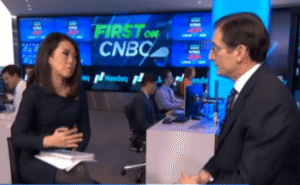 billion listed on both the  NYSE and Nasdaq in 2014 and those numbers start to look rather small.
In fact during 1980 to 2000 an average of 311 firms went public each year. From 2001 to 2011 an average of 99 firms did a public offer. IPOs for small firms have been in decline for quite some time. This occurrence has also pushed market opportunity, and associated wealth creation, from the many to the few. Some believe that equity crowdfunding can right this shortcoming – alongside the creation of venture markets.
While Nasdaq and the NYSE can squabble over who lists the most or biggest the real conversation needs to be how do we make it easier for smaller companies to list shares publicly – when the time is right.
Below is a presentation, on the decline in IPOs, delivered to the SEC Advisory Committee on Small and Emerging Companies in September of 2012.
[scribd id=257602840 key=key-kzj3hSmHNZujUSY1l4nu mode=scroll]

Sponsored Links by DQ Promote