With less than two weeks until its Kickstarter campaign comes to end, Tiko3D's self-titled 3D printer has successfully raised more than $2 million thanks to nearly 11,600 backers.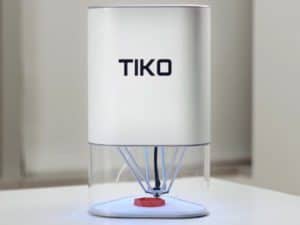 The creators of the Tiko Unibody 3D Printer designed the device to make it high quality and easy to use. Unlike other 3D printers that are bulky, difficult to assemble and may easily be damaged, the Tiko is unibody, which means the whole frame is one piece, easy to manufacture and virtually impossible to misalign. All for the price of $179.
Tiko's features include:
Enclosed printer chamber: all prints are isolated from the outside environment making the results strong and consistent.
Larger sized printer: Tiko has a slender unibody frame, delta mechanism, and ultra-compact liquefier/end-effector that enables the printer to print objects larger.
Flexible: Users are able to easily remove larger objects from the printer due to the print bed being flexible.
Non-proprietary: Uses non-proprietary 1.75mm filament on a standard 1kg 165mm (6.5in.) diameter spool.
Wireless: Printer can easily connect to the cloud and users can bring virtually anywhere, even from smartphones.
During a recent update, the Tiko team shared details about the manufacturing of the printer and third party G-Code:
"Thanks to your support we rocketed past our goal in a heartbeat, so we're returning the favor by getting a head start on manufacturing! This past week we took a sizeable part of our remaining funds and started tooling for Tiko's most important component – the unibody chassis.

"It'll be around 40 days until we get the first samples, and it's one of our more challenging components to get right, so fingers crossed that it will be perfect the first time around! But even if its not, at least we're ahead of the game!

"We've also begun tooling some of the smaller components, and we're in close communication with a number of suppliers so we can dive right into more tooling after the campaign.

"We've heard your concerns, and we know where you're coming from. It took some time to be sure, but we've come to the conclusion you wanted: Tiko WILL be able to read 3rd party G-code! So if you want to slice your files outside of Tiko's software, you'll be able to do exactly that. You'll simply save your G-code files to your computer, drag-and-drop them into Tiko's software, and hit print. Easy stuff.

"We were able to do this with a minimal number of compromises, so users who intend to stick with Tiko's slicer will not see any trade-off in performance.

"This is great news for everyone, however please be aware that while we have enabled this feature, we still do not recommend using 3rd party G-code, and if any damage occurs to your Tiko (or any person / property) while, or as a result of, running 3rd party G-code, we will not be held accountable and you alone will have to bear the cost of replacement parts/repair. Other than that, hackers/tinkerers rejoice!"
Tiko's campaign is set to close on April 30th.
Have a crowdfunding offering you'd like to share? Submit an offering for consideration using our Submit a Tip form and we may share it on our site!