Last Friday, new video game company Playtonic Games launched a crowdfunding campaign on Kickstarter to raise only $175,000 for 90's Banjo-Kazooie successor Yooka-Laylee.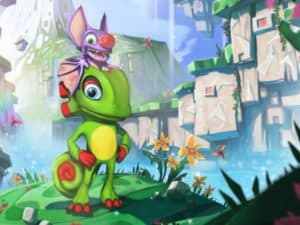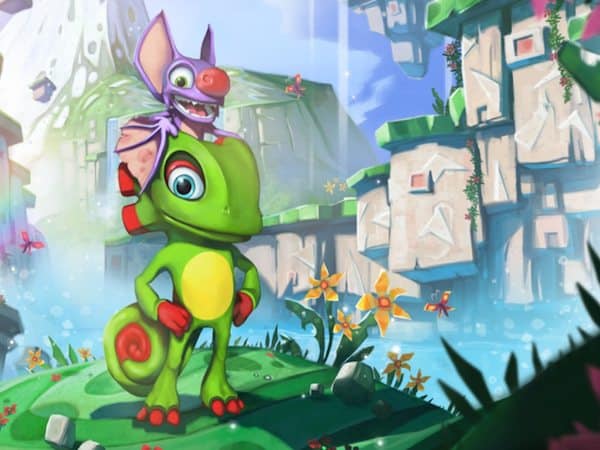 Yooka-Laylee is an all-new 3D platforming adventure for consoles and PC. Revealing the backstory of the games, the Playtonic Games crew explained:
"Back in the mid-90s, Steve 'don't call me Steven' Mayles came up with a famous bear and bird duo – and a platforming classic was born. When it came to dreaming up an all new buddy-duo in 2015, Steven set himself the objective of dreaming up the most delightful adventure characters possible. A platforming pair designed for fun gamesplay first.

"With Yooka and Laylee, we believe Steve has captured the spirit of his past heroes while introducing the most inventive moves yet seen in any of our team's work. Like a cyborg Indiana Jones, our heroes are equipped for adventure and, brought to life by the voice of Banjo and Kazooie himself, Chris Sutherland, you can expect plenty of cheeky and irreverent gags too.

"Across more than five distinct worlds Yooka and Laylee will tackle unique platforming challenges – such as rolling into a ball of navigate a pinball-inspired race course – in search of Pagies, the golden bounty used to unlock and expand new areas of the game. As is traditional in our team's games, each world will be jammed to the gills and oddball characters and hulking bosses, many who communicate via a collage of burp and fat noises."
Some features of Yooka-Laylee include:
Heroes Built for Fun: The team shared, "Our new buddy-duo were dreamed up specifically for entertaining platforming gameplay and exceptional colour coordination. We think we've captured the spirit of our past heroes while introducing our most inventive moves yet."
An Arsenal of Abilities: Such abilities are Sonar blasting, tongue whipping, sky soaring… a move roster built for platforming fun – and unlocked with added freedom. Additionally, there may or may not be a move involving a giant fart bubble.
A Dream Soundtrack: The soundtrack will include music from David Wise (Donkey Kong Country) and Grant Kirkhope (Banjo-Kazooie).
Collect-em-up 2.0: A roster of shiny collectibles with gameplay progression at their core (as well as other, more valuable materials). Every collectible type in our new game will expand gameplay in a meaningful way.
Within only a few days of its launch, the campaign not only successfully raised its initial goal, it has secured over £1.3 million thanks to nearly 40,000 backers. During a recent update, the creators shared details about upcoming game and new funding goals:
"Like a small child saturated with energy drinks, our Kickstarter campaign just won't stop movin' – and it's clattered through another two stretch goals. And a lounge table. We'd like to take this opportunity to once again thank you for your wonderful support. But we know it's not pleasantries you've clicked for, it's our next stretch goal – So bring it on!

"First, a disclaimer: We've attentively followed your feedback since the Kickstarter launched and we're acutely aware of the concerns surrounding Kickstarter 'bloat'. Backers can be assured that the Playtonic team is comprised of vastly experienced game developers, and we've carefully planned our stretch feature pledges to ensure that they won't negatively impact on the creation of our game.

"These are very 'much' dream extras that with additional budget we'll be able to add to the Yooka-Laylee package with minimal disruption to our core work. Our next stretch goal, for example, will allow us to get a bigger office. Wait, that's not right…

"Ahem. Our next stretch goal will allow us to budget an orchestral score and time for our composers to record their music in an ideal environment. Any extra money we raise will of course go towards improving and polishing the game."
The campaign is set to close on June 16th.

Have a crowdfunding offering you'd like to share? Submit an offering for consideration using our Submit a Tip form and we may share it on our site!

Sponsored Links by DQ Promote