"We are extremely excited by the possibilities of the next decade in the alternative finance market… OnDeck's vision is to transform how money flows to small businesses by leveraging our platform to provide capital on demand for small business owners. The data flowing through a small business should continuously unlock the right amount of credit for that business, and be easy to access. We are excited to continue to bring new products to market for our customers and really be a trusted partner to small businesses through their entire lifecycle."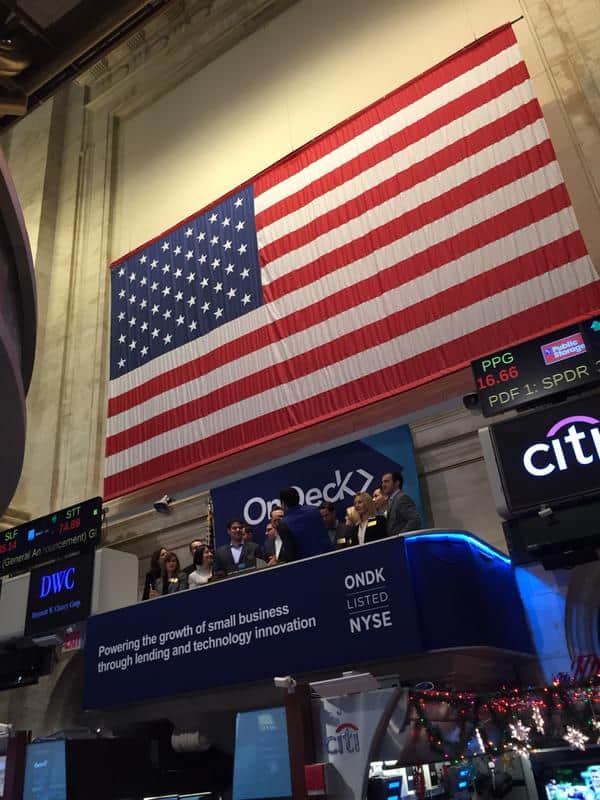 Launched in 2007, the marketplace lending platform OnDeck Capital, Inc. (NYSE: ONDK) targets small businesses. OnDeck funds loans from a variety of sources, including debt facilities, the OnDeckMarketplace and the securitization of its loan portfolio, according to the platform's website. The majority of its loans are funded on OnDeck's balance sheet;  while not a peer-to-peer lender in the true sense of the word, OnDeck Marketplace – its institutional investor loan purchase platform – remains an active part of the company's loan portfolio. "As of Q1 2015, Marketplace grew to 24% of term loan originations," according to the platform. "Maintaining a diversified mix of funding sources allows us to reduce our cost of funds and pass savings on to our customers."
Since the online marketplace's founding, the US-based lending company has helped finance over $2 billion in  small business loans in all 50 states.  The company estimates the associated job creation generated by the businesses using its platform at well over 20,000 new jobs accompanied by $3.42 billion in economic impact.  The company proudly boasts that 93% of customers state they would recommend the process to their friends. OnDeck also enjoys its growing influence in Canada, where it's been lending since 2014. As part of the expansion, OnDeck now offers loans up to $150,000 (CAD) to Canada's approximately 1.1 million small businesses.
According to Crowdfund Insider's JD Alois, "The company's success and achievements stem from its proprietary technology and small business credit scoring system, the OnDeck Score, which evaluates small businesses based on actual operating performance, not just personal credit. The OnDeck Score evaluates more than 2,000 data points per loan application and leverages a database of more than 10 million small businesses to assess creditworthiness of businesses in the United States and Canada, according to the platform."
OnDeck's own information indicates that many of their existing customers consider using traditional forms of finance, such as their local bank, but decide against this path due to the laborious and slow process. The direct lender offers loans from $5,000 up to $250,000 with a term from 3 to 24 months.  Customers are usually able to receive funding in about one business day.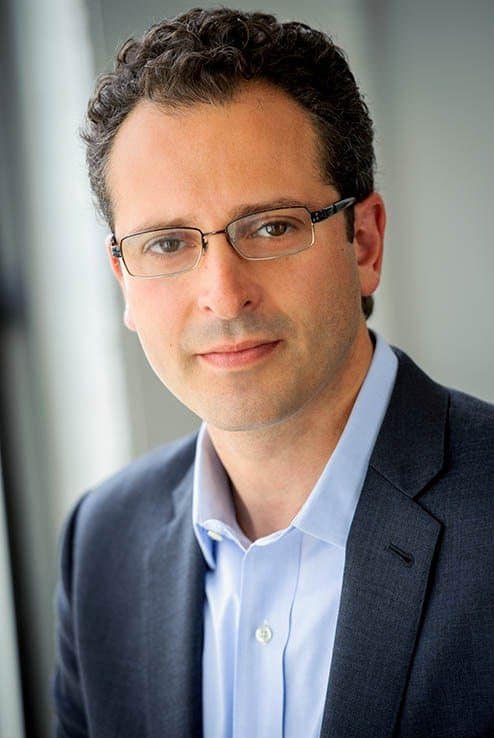 Leading OnDeck is its first employee, Chief Executive Officer and Chairman of the Board of Directors Noah Breslow.  The MIT and HBS graduate has served as OnDeck's Chief Operating Officer from October 2011 to June 2012, its Chief Product Officer from October 2009 to September 2011, its Senior Vice President, Products and Technology from March 2008 to September 2009, and its Vice President, Products and Technology from June 2007 to February 2008. Prior to joining OnDeck, Breslow was Vice President of Marketing and Product Management for Tacit Networks, Inc., a provider of wide area network optimization solutions, from December 2003 through January 2007.
I recently enjoyed the opportunity to catch up with the thought leader and esteemed innovator Noah Breslow and discuss his views regarding OnDeck's marketplace lending model and fintech, its IPO, its recent partnership with Prosper and interest rates via email.  Our interview follows:
Erin: Prior to joining OnDeck, what was your background?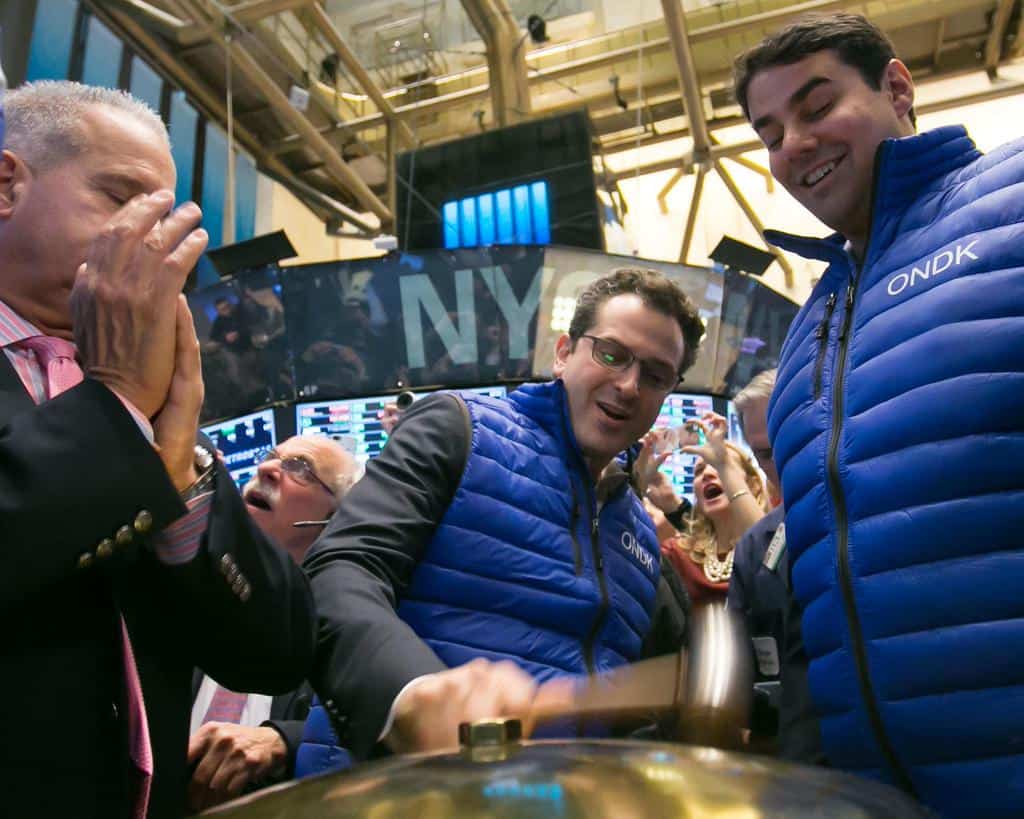 Noah: In my career, I have always focused on technology and entrepreneurship. Before joining OnDeck, I was Vice President of Marketing and Product Management for Tacit Networks, Inc., a startup provider of wide area network optimization solutions that was sold to a public company in 2006. Prior to that, I founded a mobile software company and spent my early career as an engineer working for two firms focused on internet access via satellites. I originally thought I would become an academic, but got hooked on the technology industry as a summer intern software engineer at Netscape in 1996, when the world started to realize the power of the Internet.
Erin: What led to your joining OnDeck in 2007?
Noah: I was OnDeck's first employee in 2007. I was attracted to the opportunity because I saw a chance to use technology and data to make a very inefficient process much more seamless for small business owners. I also saw that banks, the incumbents in the market, were not strong at innovation or building new technology, creating an opportunity for new entrants. My entire career, I have seen firsthand how technology can solve even the most complicated problems. The team and I were determined to leverage technology to make the paper-based, time-consuming process of small business lending fast, simple and frictionless.
Erin: Describe how OnDeck's platform sets itself apart from other marketplace lenders.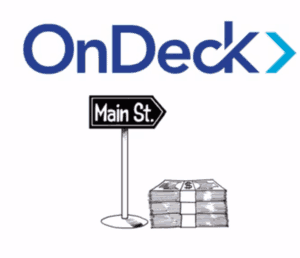 Noah: OnDeck is 100% focused on small business, a unique and historically challenging segment to serve. We've been able to deliver more than $2 billion to small businesses across the United States and Canada. At OnDeck, we're making capital more accessible, and we're making the process faster so business owners can spend their time growing their businesses instead of trying to find financing.
Our customers value our products because we provide:
Access to Capital: OnDeck's fifth generation proprietary credit scoring system, the OnDeck Score®, enables us to make capital more accessible because we incorporate business operations and performance data – over 2,000 data points from dozens of sources – into our model to accurately assess a business' health. This is a better predictor than the widely used FICO score, which looks at personal credit health – not the health of the business – and can result in both false positives and false negatives in credit decisions.
Simple, Fast and Convenient Process: OnDeck's application can be completed electronically online, and can be accessed on any device. Decisions can be delivered in minutes and funding in as fast as 24 hours.
Superior Service: We have a dedicated team of small business loan specialists who can answer questions and walk business owners through our process. We also understand small business owners don't have a typical 9-5 day, so we have extended customer service hours Monday – Saturday. We have an A+ rating with the Better Business Bureau and a 73 Net Promoter Score.
Unlike many marketplace lenders, OnDeck has multiple funding sources, including debt facilities, OnDeck Marketplace® and securitizations of our loan portfolio. Maintaining a diversified mix of funding sources allows us to reduce our cost of funds as well as promote continuity in business operations even during periods of economic instability.
Erin: Please explain the OnDeck lending model. How do you compete with banks? Other direct lenders?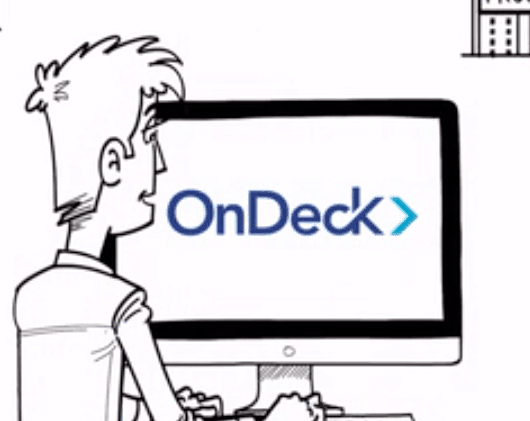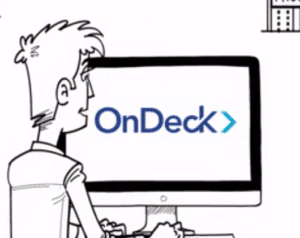 Noah: Since 2007, OnDeck has been focused on one thing: leveraging technology to change the way small businesses access the capital they need to grow. We've built an online lending platform that transforms the way small business lending works – changing it from an offline, highly-inefficient process to one that provides unparalleled access, speed and service to small business owners.
OnDeck maintains a laser focus on small business lending, and ensuring that we meet the needs of small business owners through great products and great service, which differentiates us from both traditional and newer lenders. We offer true business loans with fixed daily or weekly repayments that build business credit. Our two products – term loans from $5,000 – $250,000 over 3-24 months as well as revolving lines of credit up to $20,000 – help business owners with their growth and working capital needs.
We believe that traditional lenders have not been well-suited to meet the working capital financing needs of small businesses. It's not an issue of credit or capital, it's an issue of time and cost. Banks have processes designed to evaluate the business operations of the $20M revenue business to get a $1M loan, not a $2M revenue business who needs a $50K loan. Further, according to a recent study by the Federal Reserve Bank of New York, it takes a business owner 33 hours on average to search and apply for credit. And business owners simply don't have that kind of time.
Other direct lenders offer personal loans or a combination of personal and consumer, some offer single or more specialty products (such as invoice factoring), and others offer different loan amounts and term lengths. Many other online lenders are focused on larger loans for larger businesses for much longer terms, where they are competing more with traditional bank loan products. Our focus is on the product and customer that banks aren't serving well today, which are shorter term loans to smaller businesses for ongoing working capital needs.
Also keep in mind that what's key in lending is making the right credit decisions so that you get paid back – having lent over $2 billion, we now have a proven model that is in its 5th generation, which leads to a better chance of approval for a small business and a more efficient process.
Erin: How do your interest rates compare with traditional bank loans? 

Noah: Our rates are higher than traditional bank loans, but also substantially cheaper than many of the non-bank business lending alternatives in the market such as merchant cash advances. We provide businesses with quick and efficient access to capital, and we charge fairly for the high value product and service we deliver. As of March 31, 2015, the APRs of our term loans start at 17% and the APRs of our lines of credit range from 30% to 36% — which is a bit more expensive than business credit card rates. We compete on process more than price, much in the same way Federal Express competes with the postal service.

Small businesses often cannot afford to wait weeks or months just to hear if they are approved by a bank, and they know how to value the opportunity cost of their time. Take doctors, for example, who will lose valuable business if they leave their offices to apply in person at a bank.

In general, our customers use our loans for growth opportunities (such as buying new equipment or inventory, increasing marketing or hiring new staff) and see a clear return on investment. We continue to improve our rates as we gain scale in our business, and our rates have declined over each of the past 9 quarters.
Erin: What types of businesses use your services?  What type of business uses OnDeck the most?
Noah: We lend to over 700 different industries. Our top industries include retailers, restaurants and doctors' offices.
Erin: How do you attract borrowers? Investors?
Noah: We employ a variety of channels to help drive customer growth. Originations grew to $416 million during the first quarter of 2015, up 83% from the comparable prior year period. Originations growth reflected strength in all three of our distribution channels, particularly from our direct marketing channels and our strategic partners including Intuit and BBVA Compass.
We have a diverse and scalable set of funding sources. These include debt facilities, securitization of small business loans generated by OnDeck and the OnDeck Marketplace, a proprietary whole loan sale marketplace that allows institutional investors to directly purchase small business loans from us. We believe that having diverse sources of capital enables us to reduce our average cost of capital and provides increased flexibility as we seek to increase our loan originations.
Erin: Will P2P or marketplace lenders eventually make traditional banks irrelevant?
Noah: We are not looking to replace banks. In fact, we see our lending as complementary to banks and we even partner with them to help them better serve their small business customers. We think many banks will ultimately partner with marketplace lenders to better serve their customers with best-of-breed products and services online.
Erin: Congratulations on your recent partnership with Prosper Marketplace. How do you see your partnership with Prosper evolving? What compelled you to form a strategic relationship with an erstwhile competitor? Will you partner with any other direct lenders?

Noah: While OnDeck is 100% focused on small business lending, Prosper is committed to consumer lending. We have a long-standing relationship with Prosper and decided to expand our partnership to help consumers and businesses find the loan that best meets their needs. For example, if customers come to Prosper and wants to take out a loan to fund their business, they could be introduced to OnDeck as a potentially better fit for their needs. Conversely, if an OnDeck customer needs a personal loan, OnDeck will refer him/her to Prosper.
Erin: Since going public on the NYSE on 17 December, what changes and shifts have you noted at OnDeck?  What other changes do you anticipate in the next year?  Any big surprises?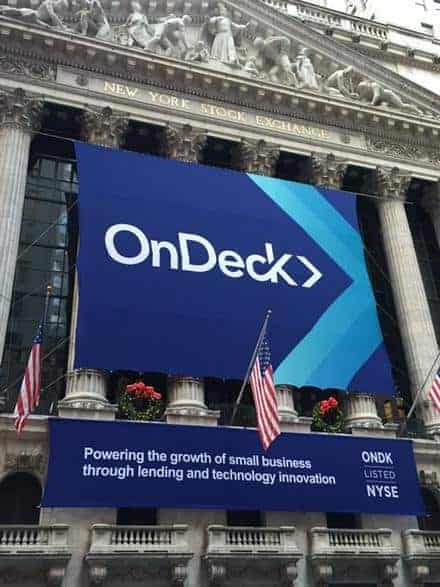 Noah: Before going public in December 2014, we spent years preparing our business to function as a public company – including our financials, operations and marketing. So how we run the company hasn't really changed, but there are some things that are just different, like what we can disclose publicly, or the timelines on which we have to finish our financial processes. There have been some major pluses from the going public process:
Customers love the fact that we are publicly traded company – it provides important credibility to them
Our pipeline of strategic partners has improved – they also see the amount of work we have done in our systems and controls as a part of the IPO process as a big plus for us as a potential partner
We have seen an influx of new talent into the company who are attracted to the financial stability of a publicly traded company but with the growth opportunity of an emerging industry.
The key is just making sure we stick to our mission and goals and not let those things distract us.
Erin: Describe any lessons learned from the IPO process. What would you do differently? What lesson will you never forget?
Noah: Going public was no small feat. It really was a team effort that required many months of prep and coordination across teams. My advice for companies thinking about this is to start thinking and running your business like it's public as early on as possible.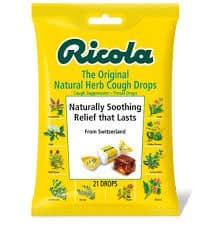 Additionally, you need to stay resilient throughout the process – there will be very exciting moments but also challenges and complex issues that must be worked through as your documents are reviewed by the SEC and investors and analysts spend time getting to know your company.
So, it's important to keep the focus of the team through those ups and downs. And for all CEOs and CFOs who will be hitting the road, make sure to pack several bags of throat lozenges! You won't be sorry.
Erin: With over $2 billion in loans delivered to more than 700 industries in all 50 states, OnDeck estimates the associated job creation generated by businesses using its platform led to 22,000 new jobs and $3.42 billion in economic impact.  The company also proudly advertises that 93% of customers state they would recommend the process to their friends. What steps does OnDeck take not only to maintain superlative numbers, but also steadfast customer satisfaction?
Noah: OnDeck takes a high-tech, high-touch approach to lending, and we provide world-class customer service that respects the time and needs of small business owners. We have counseling available to applicants who we decline, we actually help customers keep their secretary of state filings up to date, and if a customer asks us to call them back each year for a Christmas inventory loan at the same time, we do. Our dedicated loan specialists are available via extended hours Monday – Saturday, and each customer is assigned a dedicated representative for the lifetime of their account with us.
Erin: Are you considering international ventures for OnDeck?  Which specific markets have you pinpointed and/or tested for expansion?
Noah: We started lending in Canada in May 2014 and announced an expanded product offering last month. We also recently announced the formation of OnDeck Australia – we will start making loans there later this year. We chose these markets because – similar to the U.S. – there are huge gaps between small business financing needs and access to capital, and the local small businesses are digitally savvy and have an electronic data footprint that our OnDeck Score can leverage when making a lending decision.
Erin: If you had a crystal ball, what would the next innovations in alternative finance be?
Noah: We don't have a crystal ball, but we are extremely excited by the possibilities of the next decade in the alternative finance market. I think you will see a dramatic change as the remaining complex transactions that banks do in branches all move online, and banks start to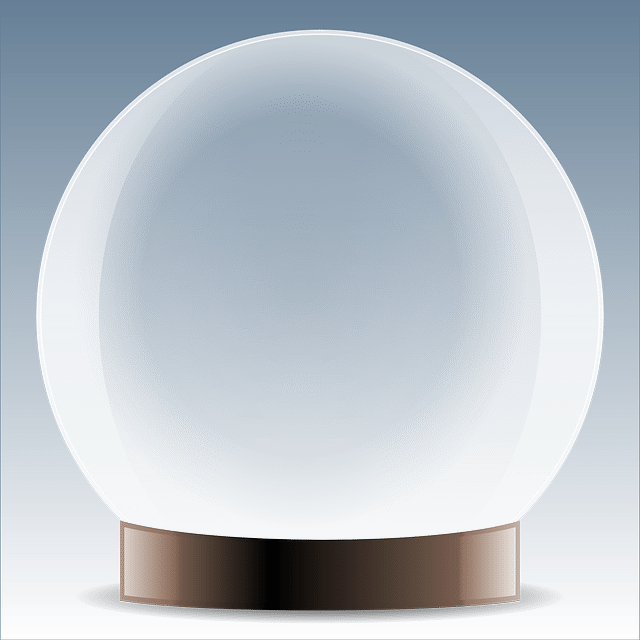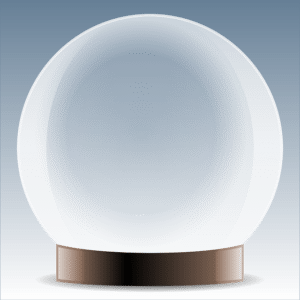 partner with technology companies more to bring innovative products and services to their customer. Within small business lending, I think there will be a lot more innovation in process, products, the data used in underwriting loans, and the sophistication and accuracy of new lending models.
OnDeck's vision is to transform how money flows to small businesses by leveraging our platform to provide capital on demand for small business owners. The data flowing through a small business should continuously unlock the right amount of credit for that business, and be easy to access. We are excited to continue to bring new products to market for our customers and really be a trusted partner to small businesses through their entire lifecycle.
---
Sponsored Links by DQ Promote