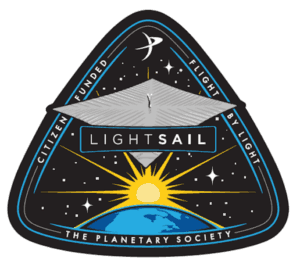 With less than three days until its Kickstarter comes to an end, famous science educator Bill Nye and The Planetary Society's LightSail project has successfully surpassed over $1 million thanks to nearly 20,000 backers.
LightSail is described as a citizen-funded project by The Planetary Society, which is self-dubbed as the world's "largest non-profit space advocacy group." The objective is to send two small spacecrafts into the Earth's orbit. Each will carry large, reflective sails that measures 32 square meters (344 square feet). The project's first mission is a May 2015 test flight, which is know to "pave the way for a second, full-fledged solar sailing demonstrating" in 2016.
The LightSail launched last month on an Atlas V rocket and has since been communicating with the crew. During a recent update, Nye and his crew shared:
"In the months ahead, we're going to be really busy applying lessons learned. The LightSail project team will make critical investments and apply the lessons learned from our test flight and ensure success of the primary mission in 2016.

"We completed the original construction of the spacecraft four years ago, so some updates are now warranted. The LightSail flight system electronics and software will be upgraded to the most current versions to ensure that they are reliable and thoroughly tested. We will also be examining and revising the power system (batteries and electronics) to avoid the types of problems we encountered during the test flight. The on-board cameras will also likely get an upgrade to the most current versions.

"On the ground, we will put the LightSail spacecraft through an extended series of tests and simulations to drive out issues related to long-term flight, and we will be bringing in a number of highly experienced expert consultants to thoroughly review the LightSail design and operations plans.

"We will provide resources to better support the network of volunteer observers, which was invaluable during the test flight. With them, we will improve our ability track and observe LightSail while directly involving amateur communities in mission operations."
Few upgrades that Nye's team has thought of include the following:
Flight Upgrades: Avionics Upgrade; Power System Revision, Camera Upgrade; Redundant Burnwire System.
Ground Station Upgrades: Add and Validate 3rd Ground Station; Enhance Ground Station for Testing; Contract for Subsystem Experts; Duplicate Benchsat; Set-Up Dedicated Operations Comms Networks.
Crowd Sourced Mission Operations: Staffing; Dedicated Web Portal; "How-to" videos; Grants for Amateur Ground Observers.
Nye then added:
"The full plan for upgrades will be developed and presented at a major project review meeting scheduled for mid-July. The Flight System Upgrades are still being pulled together, and more information is yet needed on those costs.

"However, the Ground Station Upgrades and Crowd Sourced Mission Operations pieces are budgeted and are estimated to cost $186,000 and $54,000, respectively. These two pieces, then, comprise our $240,000 stretch goal.

"This past year, I had some fun learning a new strategic planning term—the BHAG or Big Hairy Audacious Goal. I changed it up a bit to the BHAAG, or Big Hairy Audacious Achievable Goal. Yes, $240,000 is a big number, but it's achievable if the backer community supports us. We have over 19,500 backers (soon to be 20,000?) which means that if everyone added just $12 to their pledge, we can make this goal.

"How amazing is that? Over 19,000 backers and another 42,000 Planetary Society members joining together to power a mission to demonstrate a CubeSat propulsion system at a fraction of the cost of a government program. With each of us doing just a little bit more, we can make big thing happen. That's the power of democratized space exploration!"
The campaign is set to officially close on Friday, June 26th.

Have a crowdfunding offering you'd like to share? Submit an offering for consideration using our Submit a Tip form and we may share it on our site!

Sponsored Links by DQ Promote