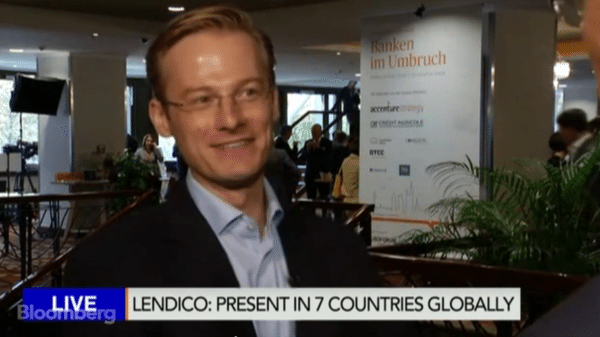 In Germany, investment crowdfunding is doing well–both debt-based and equity-based crowdfunding jumped notably in Q1 2015 versus Q4 of 2014, according to numbers from the German Crowdfunding Network. What of the country's peer-to-peer lending? Dominik Steinkuehler, co-founder and CEO of Lendico, a multinational P2P lending platform, shared his insights with Bloomberg's Hans Nichols at the Banken Im Umbruch conference in Frankfurt hosted by Handelsblatt.
Steinkuehler noted that in Germany,
the awareness [of P2P lending] is starting to increase right now, but it's still three years behind the UK, and the UK is three years behind the U.S.
Asked what he thought he and Lendico could offer consumers that older, more entrenched banks could not, Steinkuehler replied with a brief explanation of how Lendico works. He noted that the company takes the credit out of the banking sphere, and puts it into an online lending marketplace, offering benefits to both customers and investors. Lendico has had over 250,000 users in the two years since it was founded, and has loaned over 1.3 billion euros to customers. The company is present in seven
Regarding risk of default on loans, Steinkuehler noted the Lendico doesn't take any credit risk, but does the entire risk assessment before. He also noted that Lendico offers a pool of loans; people can buy into individual loans and they can also buy into investment infrastructures where we invest in a group basis.


Regarding concern about new capital requirements and new regulators, Steinkuehler was quite positive. He said, "We welcome the regulation," due to what he's seen in the countries that Lendico operates in: so-called black sheep that don't put in the adequate amount of tension or risk assessment. Steinkuehler is hopeful that implementing P2P regulations will raise standards, avoiding higher losses for the investor later on. In terms of regulation in general, Steinkuehler said they would welcome a unified regulatory scheme across Europe, because they've seen the UK moving ahead, regulation-wise, and strongly supporting marketplace lenders. whereas in countries such as Germany, the regulator hasn't really taken such a strong stance in support of the industry.

You can understand Steinkuehler's perspective particularly well when he's asked how many regulators the company has. With a patient smile, he says,
We're active in seven countries, so we're reporting to seven regulators, and every regulatory scheme in each country is different.
Asked about the next step for Lendico, Steinkuehler says that he can't comment on all the strategies they're working on–but that they're working on "some very neat solutions" on the regulatory perspective. Hopefully we can then unify the set up we have in all the markets were in.

The reporter picked up on Steinkuehler's growing grin. He pressed Steinkuehler a bit, stating that it sounded like the company was thinking about applying for a banking license. "Might be," Steinkuehler quickly replied, noting that it allows them to offer different products as well.

View the complete video below:


Sponsored Links by DQ Promote