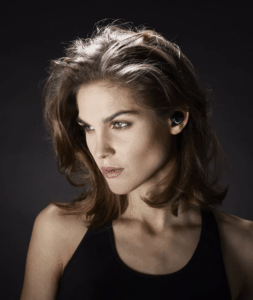 The Bragi Dash crowdfunding campaign raised a solid $3.39 million on a $260,000 goal. The in-ear wireless, smart headphones generated the support of almost 16,000 individuals. The Bragi Dash stands as the 21st most funded campaign of all time on Kickstarter.  If you measure against its design (category) peers, Bragi stands in 6th place. But the Dash headphones should be in the technology category (I think so), if you line it up here – it would hold the 6th place as well.
Bragi is late with delivery.  There is no way to avoid this fact.  Originally scheduled for delivery the fall of 2014 Bragi has lapped that date.  But the campaign has persevered with regular communication explaining delays and updating on technology for a pair of Bluetooth headsets that still has no peers.
In an update this week, Bragi stated the all Dash headsets will be shipped this month;
"All Kickstarter backer levels should be shipped by end of October, pending positive feedback on certifications. We cannot ship any units before we have approval for certifications. We expect to have those by the 27th of October.

Kickstarter developer pledge level backers from EU will receive tracking information on their shipment this week, rest of world expected next week."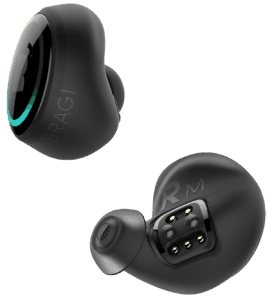 A quick visit to the comment page on Kickstarter and the majority of backers appear to be supportive of Bragi.  A recent decision to drop APTX has grumbling but in the scheme of things, delivering the Dash minus APTX should make most backers happy (iPhones do not use APTX tech).
So what did Bragi promise and what does it expect to deliver?
Wireless in-ear headphones that are waterproof ( up to 1 meter)
4GB Music player
Fitness tracker
Ear bone microphone
Gesture interface
Charging case
What will Bragi deliver? Just about everything it promised.
The Bragi Dash is an interesting odyssey in crowdfunding as the product had no true working prototype in the beginning.  More of a belief in what was possible and a necessary skill set to bring it all together. While too many crowdfunding campaigns fail to deliver, or simply deliver so late they have been lapped by competitors – the Bragi Dash suffers from neither.f
The creation of Nikolaj Hviid, his team has gone from few to many.  Will the Bragi Dash live up to all of its claims? The final proof will be rendered by the early backers and their feedback from actual devices.
Bragi believes that technology should be "discrete enablers of delightful and magical experiences". They are correct as technology should be there when you need it and unobtrusive when you do not. We are looking forward to reading about (and trying out) the Bragi Dash in the coming weeks.
You can watch a field test below including a swim in the river in Munich (try that in the Hudson).
Have a crowdfunding offering you'd like to share? Submit an offering for consideration using our Submit a Tip form and we may share it on our site!