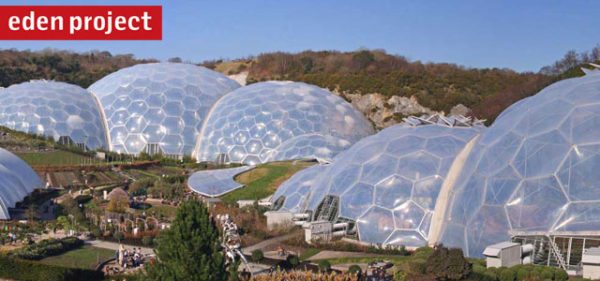 This week, equity crowdfunding platform Crowdcube caught up with one of its #FundedClub members, Cornwall-based The Eden Project, to discuss its progress and crowdfunding success.
Described as the world's largest indoor rainforest, the Eden Project sought to raise capital with a £1 million mini-bond offer. Crowdcube noted:
"[The Eden Project] raised £1.5 million through a Crowdcube Bond in less than 24 hours; the fastest raise for a Crowdcube Bond to date. 354 investors backed this venture and were offered 6% gross interest per annum, with a total of £340,000 of gross interest forecasted to be paid out to investors  over the four-year term of the bond. The company was raising investment to develop a home for its educational programme and give young people their first taste of horticulture."
While speaking about its employees, The Eden Project directors stated:
"Eden's staffing fluctuates with the season but across the year we have in excess of 375 employees. This increases to over 500 in the summer months with seasonal roles to cope with demand."
Noting any major appointments that potential investors might be interested to hear about, the directors shared:
"In May, the Eden Project announced that Edward Benthall is to be appointed Chairman of Trustees, taking over from Sir Anthony Salz.

"Edward, who joined the Eden Trust in June 2014, is a graduate of Magdalene College, Cambridge, with a special interest in public engagement with science. For 21 years (1991 to 2012) he worked for Charterhouse Capital Partners, a long established and successful investment business specialising in private equity. He was Chairman of the Campaign Council (2005 to 2011) for the University of Cambridge's 800th Anniversary Campaign, which raised a total of £1.2 billion.  From 2010 to 2014, he was Chairman of Cambridge Enterprise Ltd, a subsidiary of the University whose main role is to help academics to commercialise their discoveries.

"In 2013, Edward led the foundation of Cambridge Innovation Capital plc, of which he is Chairman.  CIC is an investment business focusing on early stage technology businesses in Cambridge. The University is the largest shareholder in CIC."
Also describing the project's progress at this time, the directors explained:
"The project plan described within the bond prospectus outlined our ambition to create a food and horticultural training centre over a four year time-frame. We are now nine months into that process and we are continuing to progress with our plans. The vast majority of our time has been focused on creating and growing the training programmes that we would expect to be housed within the new facility. We have now launched degree level courses to complement our apprenticeship programme and people are applying all the time to work on the scheme.

"The creation of the Eden hotel will also help to drive additional business to the cookery school once completed. We have been in detailed liaison with the planning and Heritage Building Inspectors regarding the development and we expect to start some capital works over the next six months. As discussed within the prospectus we have always required some additional funding to support the complete refurbishment of Restineas Farm.  As such, funding bids have been made and we await the outcomes."
In regards to the revenue figures over the last two years, the directors added:
"Eden's trading for 2014/15 continued to be strong with an increase in visitor numbers within the year. In addition, we have continued to invest into new developments. We expect to publish our Annual report during August which will summarise all of our activities and financial performance."
Have a crowdfunding offering you'd like to share? Submit an offering for consideration using our Submit a Tip form and we may share it on our site!