Back in July 2014, developer Epic Minds launched a crowdfunding campaign on Kickstarter to raise funds for its new 2D inspired video game, Midora. During its time on the platform, the initiative captured nearly $75,000 from over 3300 backers.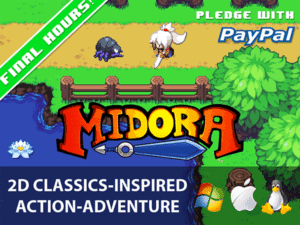 Unfortunately, after nearly a year of developing, Epic Minds has decided to abandon the project due to some issues with investors and publishers. In a recent update, which was titled 2015 Post-mortem – Refunds & The Future of Midora, The Epic Minds' Mhyre stated:
"Before I begin with the news, I would like to wish anyone reading this a Happy New Year. I believe 2016 to be the year of hope, the year of change. I believe optimism and hard work to be the keys to success. I come to you with late news but news nonetheless.

"For the whole month of December, seeing as getting any sort of deal with investors or publishers failed, I took the time to reflect on everything that happened and prepare myself. I can't say I didn't see this coming. In fact, I've been preparing myself to the idea of failure ever since the kickstarter got funded. The one thing I knew I would do, should everything else fail, is offer refunds."
While explaining details about the refunds, Mhyre noted:
"We took your money to create a game and simply failed to deliver. This shouldn't need explaining but, at the end of the day, we are not thieves. The project failed for many reasons, including unexpected events and different outcomes regarding what we had accomplished. Not everything went according to plan and this is the situation that we're in. The best way to one day create Midora is to simply stop trying now and come back to it once everything has healed. I want to come back to this project once we have enough to see this project through, from wherever we left off to finish.

"I wanted to finish 2015 by making sure we did everything that we could to fix this, and I am now glad it's over. This new step is the first step on the path to a clean sheet. Offering refunds might delay our plans to one day come back to this quite significantly but that's a truth I am willing to accept, a reality I have to accept."
Also revealing how the backers will be refunded, Mhyre shared:
"I take full [responsibility] for this project and the failures and will be the only one offering refunds. Everyone in the team but me currently has a job, and I am actively looking for work at time of writing. I am also working on a few side projects, all of which don't require a budget, some of which will hopefully allow me to come back to Midora one day. I first have to pay back close relatives and other parties that helped me way before the kickstarter. Then, I will have to stabilize my own situation. I can't offer refunds as soon as I earn money from a new job. I will need to save up money to create my own insurance, to be able to cover unexpected situations, emergencies.

"However, once that's done, I don't have many options and I won't be able to offer refunds to certain people. Some people have pledged quite a bit of money on this kickstarter and I can't exactly repay them in full. Not at first. There is also the problem of how money will be transfered, and for this only one option is available to me: PayPal. This will certainly make some of you upset but, as someone who currently lives in Europe, I don't have many other options.

"Once I am ready to comfortably offer refunds, I will open a new webpage where all backers will be able to make a claim and be put on a waiting list. There is no real way to make it fair for everyone, so refunds will be issued in order. At the end/beginning of every month, I will figure out how much of what I have can be spent on refunds (that is all the money that won't be spent on wages), transfer all of it using PayPal, then clear your name from the database.

Looking at my current timeline, it looks like I will be able to start offering refunds sometime next Summer. I will keep everyone updated on how things are going, and everyone will be given fair warnings, reminders."
In regards to the game's future, Mhyre added:
"With the decision of offering refunds, Midora certainly becomes a distant dream. However, I am not giving up on it at all. My goal is to get back on this project as soon as possible, using money I will hopefully make on other projects. This kickstarter is not dead, and everyone who has pledged money, without claiming a refund, will remain in the database. Your pledge data isn't going anywhere, which means you will still receive your reward if I can finish the game one day.

"With that said, I am hoping some or most of you will not ask for a refund, at least not yet, in order to help me find some sort of balance. The less refunds, the sooner you can expect me to go back to Midora and bring you the game we all believed in from the start."
Have a crowdfunding offering you'd like to share? Submit an offering for consideration using our Submit a Tip form and we may share it on our site!