Founder and CEO of real estate crowdfunding platform iFunding, William Skelley, has been named a member of the exclusive 'Next Generation of Real Estate Leaders.' The first annual dinner for the group will be held this evening in New York City at the Columbus Citizens Foundation.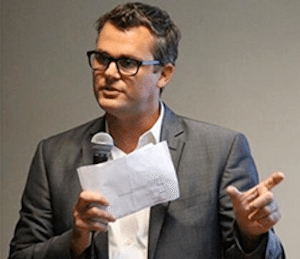 The invitation-only association is organized by Michael Stoler, Managing Director of Madison Realty Capital, and host of, "The Stoler Report: NY's Business Report," a weekly television show dedicated to real estate and business trends in the tri-state region, which has been running for 15 seasons. Other named members include elite and seasoned women and men from some of the top real estate firms in the world, including Carlyle Group, Cushman and Wakefield, Bank of America, Merrill Lynch, CIT, and Kushner Companies.
Prior to iFunding, Skelley established a boutique investment bank that underwrote $2 billion in real estate transactions, acquiring hundreds of millions of dollars in financing. Earlier in his career, William was a principal at Rose Park Advisors, a hedge fund founded by Harvard Business School professor Dr. Clayton Christensen, specializing in "disruptive innovation." He has also worked at General Electric, Olympus, and as an advisor to several start-ups. He attended Harvard Business School and Hobart College.
Skelley has also been invited by Stoler to participate in an episode of The Stoler Report, that will air in the Spring of 2016. The episode will focus on the evolution of commercial real estate. Skelley will be on a panel with previous iFunding sponsor, Paul Braungart, Founder and President, of Regional Capital Group.
Meanwhile, iFunding has been struggling with some legal issues as CapStack Partners and a man by the name of Michael J. Turner have filed lawsuits against the crowdfunding platform. Skelley and co-founder of iFunding Sohin Shah, who is no longer at the firm, have apparently refused to recognize Turner's stake, and has "froze him out of the company's operations." Turner is said to seek the "dissolution of iFunding and an appointment of a liquidation trustee."  He also wants monetary damages and a court mandated purchase of his shares.
Crowdfund Insider previously reached out to Skelley for comment and he replied:
"The lawsuit is without merit and we will defend it vigorously."
In regards to Turner, Skelley commented:
"He can't liquidate the company and has no right to even request it."
Sponsored Links by DQ Promote