With Blue Mountain State: Rise of Thadland set to be unleashed to the world tomorrow (February 2nd), Alan Ritchson sat down to discuss the highly anticipated film.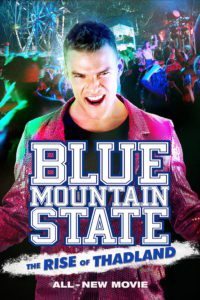 Eric Falconer, the creator of the popular television series, launched a crowdfunding campaign in early 2014 to help finance its feature-length film. The project closed on Kickstarter at over $1.9 million in funding with the backing of 23,999 committed fans. Ritchson played the role of Thad Castle, captain of the football and was known not as the smartest individual on the team.
While explaining the show's cancellation and the decision to turn to Kickstarter, Ritchson shared with the Observer:
"When the show was cancelled and when it was done, I was sort of ready to move on with my life, as I think everyone was. Then we ended up selling the show to Netflix, still relatively early in Netflix's existence. It exploded in popularity there. It was incredible to see how we were becoming more popular by the day, and we weren't even making new content.

"We went to Lionsgate. And Netflix notoriously doesn't share data, so I don't think Lionsgate was aware of what was happening, because they don't walk outside and have fifteen people all of a sudden go 'Oh my God you're Thad Castle!' Even when we were making the show and when it was on TV, nobody did that. I convinced Lionsgate to give me the rights and let me go at it. We figured out the best way to go about it creatively, and that was the Kickstarter route, which allowed us to keep as much creative control as possible, and sort of double check to see if we really did have an audience."
Also describing what makes Thad stand out, Alan revealed:
"Obviously I've had a lot of time to think about that, and at the same time I try not to think about it too much. I don't want to to become so cerebral to me, as someone that has to continuously bring him to life, that it becomes a formula.

"I think the key element to him that works is his likability, and that comes from his boyish charm. We're never afraid to take the traditional jock archetype, and make him almost effeminate in nature. But from a place that's purely naive. He isn't aware of how ambiguous he is [laughs]. He'll 100% justify that in everything he does. It makes him more likable, more human.

"It took a little to develop that. I think anyone could have portrayed Thad as very mean, and in your face, and 'I know what I'm doing and you don't,' 'you're going to do what I say.' He could have came across as just a real arrogant jerk that you just don't like. It was important to me that we make him likable. To me it was in his boyish naivety, and that's where his charm and charisma lie, and that's what people relate to."
In regards to what needed to be changed in Blue Mountain State, Ritchson added:
"A network like Spike, they were trying to figure out their demographic, too. And I feel like they really lucked out with this show, because it was a hit for Spike in the 18-35 demographic. But the whole time we were making BMS, Spike was trying to skew older. They wanted more Coach Daniels, more Denise Richards, they wanted an older audience. My instinct was–not that Spike wasn't great and an important part of the show–but I never felt like that's why people were watching. I thought people wanted more of that crazy, Animal House-style college comedy. It was college students watching this wish-fulfillment version of college, going 'gosh, I wish I went to that school.'

"When we were coming up with ideas for the movie, [BMS creators Eric Falconer and Chris Romano] turned in pages to me and I go 'Guys, this isn't Spike anymore. Why are we doing a Coach Daniels movie?' Nobody wants to see a Coach Daniels movie. It was a funny conversation because I say that, and they go 'Oh my God, do you know how refreshing it is to hear that? We're brainwashed by only hearing one note for three years. More Coach Daniels. Skew older.'"
Have a crowdfunding offering you'd like to share? Submit an offering for consideration using our Submit a Tip form and we may share it on our site!