Don't Bank. SoFi. The marketplace lender doesn't want to change the banking industry. It wants to eliminate it completely. Having raised a mere billion dollars last year, SoFi has decided to spend a few dimes on promoting its message around the country. And what better venue than Super Bowl 50?
In an interesting twist, Howard Univeristy graduate Brandon Williams, applied for a loan and got just a bit more. During the second quarter of today's epic football encounter, Williams will be featured into SoFi's big broadcast debut.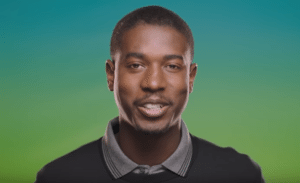 Williams told WTOP in DC;
"I had no idea it was going to be part of the Super Bowl. They're highlighting a bunch of different individuals, and saying who's great and who's not. They finally zero in on me, and explain that I'm great, and why I'm great."
Williams spent a couple days filming the production.  But how much did he get paid for a commercial soon to be viewed by millions? Zero. Zippo. That's right he did it for free.
"I did this pro bono because it's a brand that I believe in," stated Williams.
Of course, he got a good rate on the loan. So next time you need a loan don't bank. SoFi. You never know what may happen.
---
Sponsored Links by DQ Promote