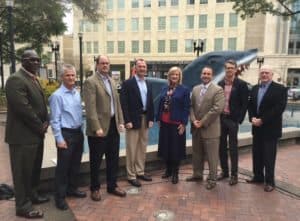 One Spark, previously labeled as the world's largest crowdfunding festival, has revamped and restructured for 2016. At a press conference held early today in Jacksonville, the One Spark's board outlined their vision for 2016.  It was just last month that One Spark announced a new "social purpose" corporation as the founder & CEO Elton Rivas resigned from his position.  The viability of the event was called into question as the cost ballooned over the past several years. Jacksonville.com reported that the total tab was approximately $6 million for the last three years with a single donor picking up more than half the bill.
According to organisers,  One Spark Ventures, Downtown Vision, Inc. (DVI), the City of Jacksonville, the Downtown Investment Authority, Jax Community of Entrepreneurs (JAXCoE), and members of the creator community, have joined to create an updated festival that will be a two day event that features "First Wednesday Spark Walk" and a "Creator Innovation Day".
The walk portion is said to combine the "art and energy" of the monthly art walk but adding the creator showcase.  The event will take place on Wednesday, April 6th starting at 12 noon and running to 10PM in the evening. The public event will span 15 blocks, with a Creator Showcase and is designed to recognize the "creative energy of Northeast Florida creators, innovators, entrepreneurs, and champions of meaningful social and cultural projects". Up to 120 creators will be chosen to participate and participants are encouraged to crowdfund on individual platforms. Creators may also set one up through One Spark's Indiegogo partnership.
Creator Innovation Day, described as a celebration of innovation and entrepreneurship on the First Coast, will take place Thursday, April 7 at the Hyatt Regency Jacksonville Riverfront.  This daylong program will include keynote addresses, presentations, panels, and breakout sessions offering practical advice about topics that will help entrepreneurs build, manage and lead their businesses.
Topics to be addressed include best practices in crowdfunding, web site development and management, legal formation and IP protection, marketing techniques, lean business strategies and more.
"One Spark has been an amenity for Jacksonville for a number of years now and has created amazing cultural energy Downtown," said Downtown Vision, Inc. CEO Jake Gordon. "Spark Walk comes out of the Downtown community's desire to keep this energy going and is a way to celebrate the innovation of our artists and entrepreneurs."
One Spark Ventures will also pre-select top projects and invite those creators to participate in a One Spark Venture Spark Tank event on April 7.  Creators will be able to pitch their ideas in front of potential investors for validation, feedback and guidance.
One Spark "lead patron" Peter Rummell explained the updated approach for the annual event;
"As One Spark works to reestablish itself and become a year-round vehicle for creator success, we are thrilled to offer entrepreneurs not only a platform to test their ideas and receive validation, but also an opportunity to educate themselves during our creator Innovation Day," said Rummell.  "This year's event offers valuable opportunities for creators, as well as entrepreneurs, investors, students and teachers to really understand the necessary steps to turn an idea into a success story."
One Spark Ventures President Chris Carter emphasize the updated vision was to focus on opportunities within the Jacksonville entrepreneurial ecosystem;
"The vision is to also let entrepreneurs know what resources are available here in Jacksonville, whether government, educational or within the expanding Jacksonville entrepreneur ecosystem, to assist them."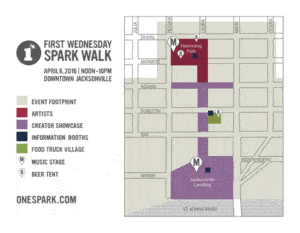 Those interested in sharing their ideas at the April 6 Spark Walk may visit OneSpark.com to apply no later than Monday, Feb. 29.  Organizers state that any creator who previously applied for One Spark must reapply to be considered.  Previously collected application fees will be returned in full.  Creators will be selected to participate in Spark Walk and notified by March 15, with a $50 registration fee due by March 18.

Sponsored Links by DQ Promote