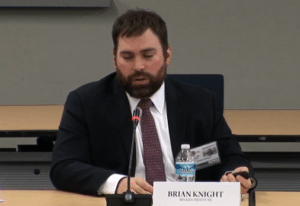 For many small businesses to thrive, they need access to capital.  A promising business must be able to find financing to grow their business. If you do not have sufficient cash on hand you must go elsewhere. Typically SMEs start with the proprietor using their own resources and then, from there, you go to friends, crowdfunding, Angels, VCs, banks, non-bank finance etc.
The rise of new vehicles to raise capital have combined with regulatory over-reach to create new channels of finance. Banks, while still a popular route for growth capital, are not as prepared to make smaller loans today. It simply costs them too much.  Online lenders have moved in to fill this gap. Be they marketplace or balance sheet types, the speed and efficiency typically trumps a trip to queue up at a local bank.
Brian Knight, Associate Director, Financial Policy, Center for Financial Markets at the Milken Institute, delivered a presentation on Access to Capital during last week's meeting of the Advisory Committee on Small and Emerging Companies (ACSEC) at the SEC. The information presented was based off a survey of over 600 SME owners providing a "snapshot" of corporate financing structures and approaches to raising capital.
Milken's key findings are as follows:
Debt is preferred method of outside financing
Firms value price,ease of access, speed of funding, and certainty when evaluating sources of funding.
Firms are uncertain whether bank or non-bankfinancing is superior, but are influenced by their relationship with their bank.
Firms had low understanding and interest in alternative sources of funding and recent securities law changes
Banks still play a leading role in providing credit when a company needs money to grow and online lenders, which compete on both price and service, clearly have a ways to go in borrower awareness.  Approximately 35% of the firms surveyed did not know whether bank finance or non-bank finance was a superior option. Even more interesting, most of the respondents were unaware of recent changes in securities laws (IE the JOBS Act).  But then, things do take time and Rome was not built in a day.
See the presentation below.
[scribd id=300847991 key=key-JW7Ky6xuX36x25Dag4AR mode=scroll]