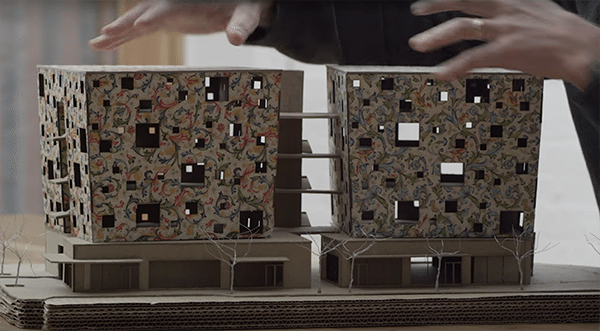 Guerrilla Development, a Portland, Oregon-based real estate firm, announced earlier this month that it has completed a Regulation A+ Tier I crowdfunding deal for its unique building, the Fair-Haired Dumbbell. The minimum offering goal was $750,000 and the max was $1.5 million (investors were able to invest a minimum of $3,000 with a max of $250,000).
The company stated that it focuses on creating inventive and experimental projects that use both hemispheres of the brain:
"We make buildings that prove that good design and good financial returns are not mutually exclusive.  We serve all of our partners with equal care, from investors and bankers to tenants and neighbors to contractors and staff.  Our ideas are coded in walls and windows and concrete and timber, yet we measure success by the social capital our developments produce as well as by the asset value they generate."
Kevin Cavanaugh, the owner of Guerrilla Development, explained more details about the project:
"As you can tell, [the building] looks like a dumbbell. [It is consists of] two masses connected to a skybridge. Each one of these floors is 4,000 square feet. Perfect for a 12-15 person company and I want the energy and creativity on the inside to match what's happening on the outside."
According to the final rules of Regulation A+, Tier I consists of securities offerings of up to $20 million in a 12-month period, with not more than $6 million in offers by selling security holders that are affiliates of the issuer. Both tiers 1 or 2 are subjected to basic requirements as to issuer eligibility, disclosure, and other matters, drawn from the current provisions of Regulation A.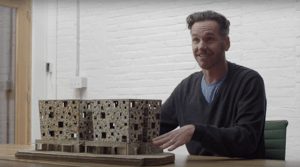 Guerrilla Development noted that anyone in Washington, Oregon, California, Massachusetts, Virginia, or Washington D.C. were able to invest in the project. The company also revealed that $12.5 million is coming from the bank through a construction loan while $1.5 million from the Class C investors, which are those who participated in the round. $2.5 million will come from Class B investors, which the company will bring in during an upcoming Regulation D offering. An additional $1.5 million will come from the company through a form of sweat equity.
Those who participated in the Reg A+ funding round will receive C shares with an expected 8% per year return for the next three to five years for their investment. After year 5 the return may increase to 12% if units are not redeemed by the end of Year 5 or units are not converted in Class C-1 units.  There are A shares and B shares with voting rights.  C shares under the Reg A+ offer do not hold voting power.
Cavanaugh, along with Guerrilla Development's head of east coast development, Anna MacKay, answered questions about the project in the video below.
Have a crowdfunding offering you'd like to share? Submit an offering for consideration using our Submit a Tip form and we may share it on our site!