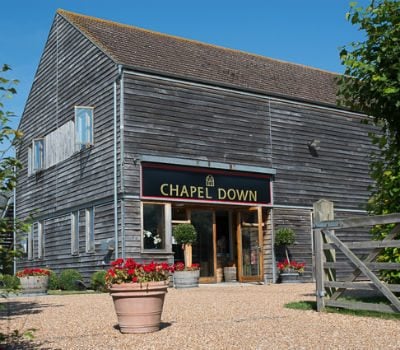 On Thursday, Chapel Down Plc (ISDX: CDGP) announced its 2015 financial results. As Crowdfund Insider reported in 2014, Chapel Down became the first publicly traded company to raise capital via an equity crowdfunding platform using Seedrs.  The capital provided from crowdfunding was used to build a new brewery operation and grow their product line.
Highlights of Chapel Down's 2015 include:
34% sales growth to £8.18m (2014: £6.11m)
36% growth in gross profits to £3.02m (2014: £2.22m)
£507k* adjusted EBITDA – a 6% increase (2014: £478k*)
One of 1000 companies to inspire Britain from the London Stock Exchange
A successful crowdfund to build their new brewery in Ashford, raising £1.71m
Chapel Down chairman, John Dunsmore, stated:
"2015 was another good year for your Company. We continue to drive our top line without sacrificing margins and we are building strong brands. In our wine business, we enjoyed our second best ever harvest and invested £1.32m in planting 90 acres of new vineyards and in the purchase of further equipment to enhance our viticulture and winemaking. We are growing our supply whilst also investing in marketing, systems and people to stimulate sustainable long term demand. In recognition of the quality of our wines, we won gold medals in three prestigious global competitions – The International Wine Challenge 2015, The Decanter World Wine Awards 2015 and the Sommelier World Wine Awards 2015."
Frazer Thompson, Chapel Down's CEO, noted:
"Chapel Down has enjoyed another excellent year of growth. In a highly competitive trading environment your company has continued to invest in the value of its brands, its vineyards and winery and its people as we build a healthy, sustainable and innovative drinks company with an exciting future both at home in the UK and in sophisticated drinks markets abroad. With sales growth of 34% in the Group – sales up 27% on wine and up 50% on beer and cider – we are investing the proceeds to build the business whilst delivering growth in adjusted EBITDA at £507k* (2014: £478k*)."
In regards to Chapel Down's future, Dunsmore added:
"We have excellent fast growing brands in two very exciting markets and a strong balance sheet. We have blue chip customers, good export potential and enthusiastic and thirsty consumers. We have more stock of our wines available and more customers wanting our beer and cider. With the construction of our new brewery on a highly visible site in Ashford, the development of our site in Tenterden and the continuing shift in demand towards high quality drinks made with passion and care, we remain confident that the prospects for the Group are excellent."
See full results below.
PROFIT AND LOSS ACCOUNT FOR THE TWELVE MONTHS ENDED 31ST DECEMBER 2015
Audited
Audited
12 Mths
12 Mths
31.12.15
31.12.14
£
£
Turnover
8,178,978
6,110,351
Cost of sales
(5,161,552)
(3,894,918)
————-
————-
Gross profit
3,017,426
2,215,433
Administrative expenses
(2,894,217)
(2,126,000)
Share based payment (see note 2)
(420,286)
(172,704)
————-
————-
Operating loss
(297,077)
(83,271)
Interest
18,196
43,303
————-
————
Loss before tax
(278,881)
(39,968)
Tax
(55,676)
20,575
————-
————
Retained loss for the year
(334,557)
(19,393)
========
=======
Adjusted EBITDA excl. share based payment (FRS 102 section 26 adj)
507,249
478,517
Adjusted Profit on ordinary activities before taxation and excl. share based payment (FRS 102 section 26 adj)

141,405

132,736

=======
=======
Loss per share – basic
(0.33)
(0.02)

Loss per share – diluted

(0.33)

(0.02)

========
=======
CHAPEL DOWN GROUP PLC
CONSOLIDATED CASH FLOW FOR THE TWELVE MONTHS ENDED 31ST DECEMBER 2015
| | | | | | |
| --- | --- | --- | --- | --- | --- |
| | | | Audited | | Audited |
| | | | 12 Mths | | 12 Mths |
| | | | 31.12.15 | | 31.12.14 |
| | | | | | |
| | | | £ | | £ |
| Net cash generated from operating activities | | | (601,066) | | (257,881) |
| | | | ————- | | ————- |
| Cash flows from investing activities | | | | | |
| Payments to acquire tangible assets | | | (1,568,302) | | (574,885) |
| Interest received | | | 18,196 | | 83,082 |
| | | | ————- | | ————- |
| Net cash from investing activities | | | (1,550,106) | | (491,803) |
| | | | ————- | | ————- |
| Cash flows from financing activities | | | | | |
| Issue of ordinary share capital | | | 3,007 | | 3,710,978 |
| Repayment of bank loans | | | – | | (1,789,061) |
| Interest paid | | | – | | (39,779) |
| | | | ————- | | ————- |
| Net cash used in financing activities | | | 3,007 | | 1,882,138 |
| | | | ————- | | ————- |
| Net (decrease)/increase in cash and cash equivalents | | | (2,148,165) | | 1,132,454 |
| | | | | | |
| Cash and cash equivalents at the beginning of the year | | | 5,210,188 | | 4,077,734 |
| | | | | | |
| | | | ————- | | ————- |
| Cash and cash equivalents at the end of the year | | | 3,062,023 | | 5,210,188 |
| | | | ======== | | ======== |
BALANCE SHEET AS AT 31st DECEMBER 2015
| | | | | | |
| --- | --- | --- | --- | --- | --- |
| | | | Audited | | Audited |
| | | | As at | | As at |
| | | | 31.12.15 | | 31.12.14 |
| | | | | | |
| | | | £ | | £ |
| Fixed assets | | | 7,203,368 | | 6,019,766 |
| Current assets | | | 10,378,126 | | 10,825,918 |
| Creditors due within one year | | | (2,306,678) | | (1,713,863) |
| Creditors due after one year | | | (306,323) | | (269,245) |
| | | | ————— | | ————— |
| Net assets | | | 14,968,493 | | 14,862,576 |
| | | | ————— | | ————— |
| | | | | | |
| Called up share capital | | | 5,051,510 | | 5,048,503 |
| Share premium account | | | 8,554,912 | | 8,554,912 |
| Revaluation reserve | | | 1,073,650 | | 1,093,389 |
| Profit and loss reserve | | | 288,421 | | 165,772 |
| | | | ————— | | ————– |
| Shareholders' funds | | | 14,968,493 | | 14,862,576 |
| | | | ————— | | ————– |
Have a crowdfunding offering you'd like to share? Submit an offering for consideration using our Submit a Tip form and we may share it on our site!

Sponsored Links by DQ Promote