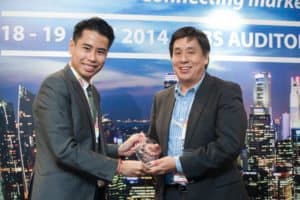 CoAssets (NSX:CAX), launched as a real estate crowdfunding platform in Singapore, has successfully raised capital online for an Australian SME, according to a report in the Australian Financial Review.
In July of 2015, CoAssets became the first Southeast Asian investment platform to publicly trade shares when it listed on the National Stock Exchange of Australia.  The listing came as CoAssets expanded into the country as it sought to leverage is platform into other countries.  CoAssets has announced its intent to migrate over to the mainboard in Australia.
AFR states that CoAssets raised just over $100,000 for  Stapleton International – in just two days.
The report quoted CoAssets co-founder and CEO Getty Goh on the transaction;
"Stapleton struggled to get the money they needed … traditional financiers got cumbersome. We add value to small-medium businesses because market conditions have become more challenging for them. Crowdfunding is key."
The CoAssets website claims that over 50 businesses have been funded via their platform having raised more than S$43 million. For the fiscal year 2015, CoAssets claimed revenue of S$1,972,017, a 367% increase from the prior period of S$422,228.  The company also stated it had generated a net profit after Tax of S$264,781 for the year.