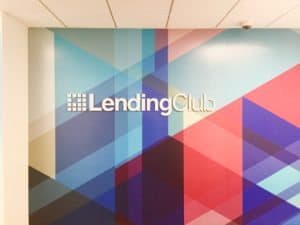 The US' largest marketplace lender LendingClub Corp. is planning its first sale of bonds backed by its unsecured loans, reported the WSJ, seeking new funding sources in today's challenging market. Working with Goldman Sachs Group Inc. and Jefferies Group on the offerings, LendingClub's plans to discuss updates with potential investors as early as this week, reported the WSJ; Goldman Sachs is expected to advise on the packaging of LendingClub loans to borrowers with better credit scores,while Jefferies is expected to manage the loans to less creditworthy borrowers:
"LendingClub is one of the only large online lenders that hasn't actively pursued securitization deals as a means to ramp up growth. In the past, LendingClub loans have been securitized indirectly. Other financial firms, such as the hedge fund Eaglewood Capital Management, have resold LendingClub loans via securtizations without the company's participation," noted the WSJ.

"LendingClub, whose shares have lost a third of their value since the start of 2016 and 60% over the last 12 months, would be particularly hard hit if investor demand for its loans were to wane. It derives the majority of its revenue from fees it charges borrowers, as opposed to interest collected over the life of the loans, and the company projected in February that 2016 revenue would be 72% greater than it was a year earlier.

"But the online lender is looking to embrace securitization at a time when the overall industry is dialing back new issuance," added the WSJ. "In the first quarter, $1.5 billion worth of securitizations backed by online loan pools were sold to investors, down 21% from the $1.9 billion sold in the fourth quarter of 2015, according to PeerIQ, a research firm. Recent securitization transactions that have been sold to investors were largely done at much higher yields, reflecting concerns about the creditworthiness of borrowers and the economy. Buyers of a March bond offering based on Prosper Marketplace Inc. loans demanded yields as much as five percentage points higher than a similar deal late in 2015."
In February 2016, Lending Club revealed that the platform had originated over $16 billion in loans. Lending Club's business predominantly comes from small loans from consumers consolidating onerous credit card debt, but a growing amount also comes from small businesses in need of capital.
"Since launching in 2007, Lending Club has delivered access for retail investors to invest in consumer credit that has delivered net annual returns of 5-8% historically since inception and we look forward to expanding our distribution with this strategic relationship," commented LendingClub Chief Executive Renaud Laplanche in late March when Lending Club joined the Millennium Alternative Investment Network (MAIN).
As for the platform's current decision to sell off bonds backed by its unsecured loans, WSJ notes that LendingClub has used other tactics to fundraise in the past, such as raising interest rates on new borrowers, to boost investors' returns and keep them interested in buying its loans:  "The company said in a securities filing last week it was charging borrowers 0.23 percentage point more on average to partially offset an uptick in projected loan losses, the third time it raised rates in less than six months."

Have a crowdfunding offering you'd like to share? Submit an offering for consideration using our Submit a Tip form and we may share it on our site!

Sponsored Links by DQ Promote