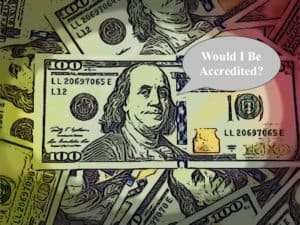 The North American Securities Administrators Association (NASAA) has published a comment letter expressing their opinion on the definition of an Accredited Investor.
As mandated by Dodd-Frank, the Securities and Exchange Commission (SEC) must review the current definition on a periodic basis. As it stands today, only individuals earning at least $200,000 a year or with a net worth of over $1 million (minus one's primary residence) may participate in Reg D private placements.  The definition has come under fire of late as a growing segment of policy officials are recognizing the flawed nature of rule as it has disenfranchised the majority of the population in gaining access to some of the most lucrative investments available. These same investments may be intrinsically more risky than some other investments as expected returns are accordingly higher.
Recently the Advisory Committee on Small and Emerging Companies (ACSEC) convened at the SEC headquarters to discuss the current definition. One SEC Commissioner asked if the definition should be removed in its entirety – a move that would match some other developed countries.  Yet the lobbying group that represents the state securities administrators is bucking the trend.
In their comment letter, NASAA President Judith Shaw expressed the opinion that current financial thresholds should be raised today and indexed on a rolling basis to account for inflation.
As most people understand, a wealth metric is not a guarantee of skill or sophistication. But incorporating a test of sophistication is something NASAA apparently does not prefer;
"Qualification as an accredited investor absent any sort of experiential requirement does not objectively satisfy the sophistication requirement. The Commission should require a minimum of five years of experience in the field corresponding to the professional designation or credential to ensure an individual has obtained sufficient industry experience to demonstrate financial sophistication. Allowing an avenue to accredited investor status absent experience paves the way for people who are merely successful test takers to qualify as accredited investors."
While pointing to Reg D offerings as being consistently associated with fraud, NASAA representatives have admitted in the past they do not have quantifiable data on criminal acts.
Wrapping the NASAA opinion under the guise of investor protection may be indicative of a fear of relevance. The state regulators do play an important role in hunting down acts of fraud within their borders – something that should be lauded.  But as more promising young companies have avoided going public due to excessive cost and compliance the capital gains have followed.  NASAA members should be working on crafting a rule that is more inclusive and less exclusive and only for the rich. Blocking people from investing in potentially lucrative investments should not be on the list of state securities administrators tasks.
[scribd id=314097706 key=key-tKJkVfqMxTsPhqfI7g5s mode=scroll]