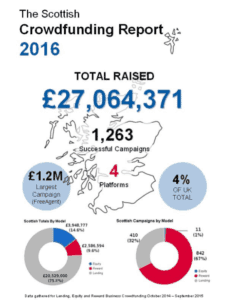 Crowdfunding has grown dramatically in Scotland.  This is according to a report commissioned by the Glasgow Chamber of Commerce, Harper Macleod, Santander and LendingCrowd. The report is an update of a previous study that was published in 2013. The actual research was handled by Twintangibles.
The numbers show that crowdfunding, including debt, equity and rewards, raised £27,064,371 between October 2014 and September 2015. The peer to peer lending sector was by far the largest at £20,529,000.  Equity generated £3,948,777 and rewards came in last at £2,586,594.  In comparing the first report, which was published in 2013, the crowdfundin market was valued at under £1 million indicating a substantial increase in the past few years.
The authors noted that £1.5 milllion loan on LendingCrowd financed an exit for early investors in Diet Chef thus demonstrating an "increasing sophistication in the role and use of crowdfunding in an organization's financing strategy."
The single largest equity campaign in Scotland was for accounting software firm of FreeAgent which raised £1.2 million on Seedrs.
Regarding home grown platforms the landscape has shifted. Squareknot, based in Glasgow, merged with Growthdeck in London and ShareIn, based in Edinburgh, has pivoted to a crowdfunding software provider. LendingCrowd, a peer to peer platform has established itself as a growing debt platform. On the rewards side, Kickstarter remains popular along with Crowdfunder  UK.
The authors pointed to one of the highest profile offers that has turned into a global phenomenon: BrewDogs.  The ScottishCrowdfnding Report called it "an intriguing conundrum." The Equity for Punks project that has raised tens of millions of pounds has raised awareness in Scotland but apparently has given pause to some as "crowdfunding is potentially "not for them" as they cannot match the counter culture BrewDog model."
The report states that Funding Circle has achieved the highest degree of awareness in Scotland, followed by Kickstarter.
Crowdfunding in Scotland is described as an "increasingly important source of viable funding for business." The is in contrast to the "subdued demand for bank finance and a general constraint on the availability of finance."
The report is embedded below.
[scribd id=314793796 key=key-sU4e6rVo4TMNDmywwxpZ mode=scroll]