While continuing to raise awareness for her new healthy food petition, Veronica Mars starlet Kristen Bell recently revealed to E! News her favorite pastime is looking up GoFundMe crowdfunding campaigns she can put funds towards.
During her interview with the media outlet, Bell shared:
"I sometimes at night just randomly search through GoFundMe campaigns. Flipping through GoFundMe pages is like my new sloth videos that I do late night to make me happy."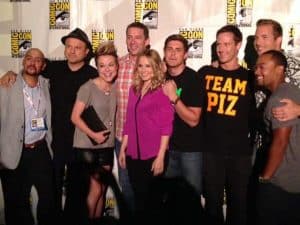 She also revealed she donated $10,000 to nonprofit organization Sun Cedar on the funding portal:
"I felt like there weren't as many donations as I'd wanted to see, and often times when you have a larger donation you can send out another email saying 'closer to our goal' and I wanted them to have the ability to do that. And I also believe in the organization."
Bell has also been involved in crowdfunding projects in the past. The Veronica Mars Movie, which she starred in two years ago, is ranked in the top 20 most-funded Kickstarter campaigns because it raised $5,702,153 from 91,585 backers.