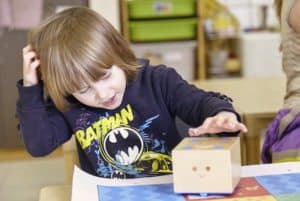 Following the news that Pittsburgh tech startup, Digital Dream filed an infringement lawsuit for its Kickstarter-funded project, Cubetto, Primo Toys officially addressed the situation.
As previously reported, Cubetto is a toy for both boys and girls and is powered by what is described as a "tangible" programming language. Children help the device, a wooden robot that wants to be told where to go and how to get there, find its way home by writing their programs. The kiddos use a set of colorful coding blocks for this process. PrimoToys previously raised £304,920 from 294 investors on Crowdcube. Its first product, the "Cubetto Playset," has been sold in over 40 countries, with over 4,000 back-logged orders to be fulfilled in April 2016.
Jacob Hanchar, CEO of Digital Dream Labs, stated:
"We are not intimidated by the fact that Mark Zuckerberg's sister is the largest investor in Primo Toys, since the case will be tried in court and not on Facebook or other social media. We began developing our proprietary technology back in 2012, and took the appropriate steps to protect our work by first filing for a patent in March 2013. Primo Toys not only failed to do basic patent research before marketing its product in the U.S., but also decided to move forward in the U.S. market even after we told them about our patent."
He then added:
"There's a risk with every Kickstarter campaign that the backers won't get the product they were promised. While we know that many investors in Kickstarter campaigns lose their entire investment, we are hopeful that those who have purchased Cubetto through Kickstarter will be protected in any settlement. Our ultimate goal is to provide educators with tools that engage their students as they learn, and we desire to work out a mutually beneficial deal with Primo to ensure that its infringement of our patent doesn't damage the people who support early computer science education." 
Earlier this month, Primo Toy stated:
"This is our first public statement on the matter. We're happy to say that our legal council has examined the patent in detail, and we can confirm Primo Toys is not infringing on any of its claims. Furthermore, our concept was published in 2012 as a university project, thus predating the patent. We do not know if this is a shakedown attempt, or a genuine mistake by Digital Dream Labs, but please rest assured that this inconvenience won't impact on our schedule. We're certain the matter will be resolved quickly and in our favour, and we will of course follow any procedure required of us."
Have a crowdfunding offering you'd like to share? Submit an offering for consideration using our Submit a Tip form and we may share it on our site!