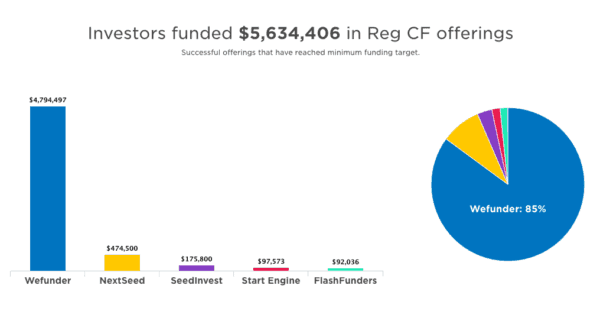 Reg CF, created under Title III of the JOBS Act, was launched on May 16th of this year as the new securities exemption became available to SMEs seeking investors.  Under Reg CF, issuing companies may sell securities to both accredited and non-accredited investors to raise a max amount of $1 million.  While this investment crowdfunding sector is still quite young, Wefunder is leading the pack of funding portals by a wide margin.  To share the story, Wefunder has created a data page to share the industry statistics (updated every Monday).
According to Wefunder:
Investors have funded $5,634,406
Wefunder has generated 85% of that amount or $4,794,497
There have been 19 successful offers so far with 14 of those offers listed on Wefunder
Ther have been 7,607 individual investments
Three companies have raised the maximum amount of $1 million: Beta Bionics, LegionM and Hops & Grain (all on Wefunder)
Regarding some Wefunder specific data points:
76% of investments were under $500.  31% were exactly $100.
Median income of investors stands at $90,000
Equity investments stand at $3,989,164
Debt investments stand at $1,100,836
Investors on their platform came from all 50 states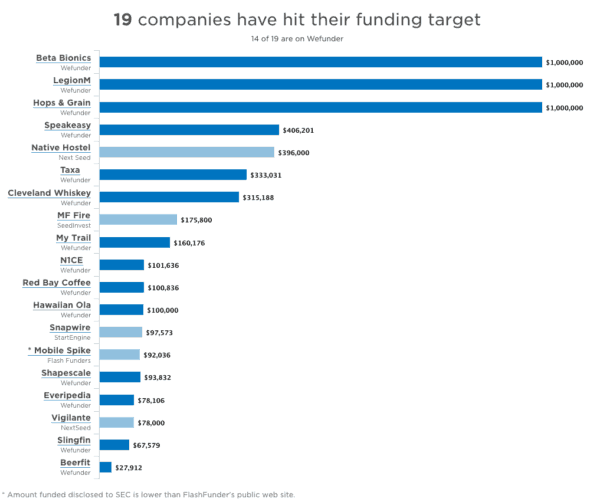 Currently, there are 14 FINRA/SEC approved funding portals that may use Reg CF. Most of these crowdfunding platforms are still gearing up so it will be interesting to see how Reg CF tracks over time. Going forward, improvements to existing rules may boost the viability of Reg CF with improvements including increasing the funding limit to $5 million or more, allowing "testing the waters", and adding SPVs.