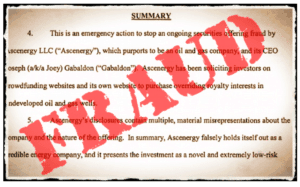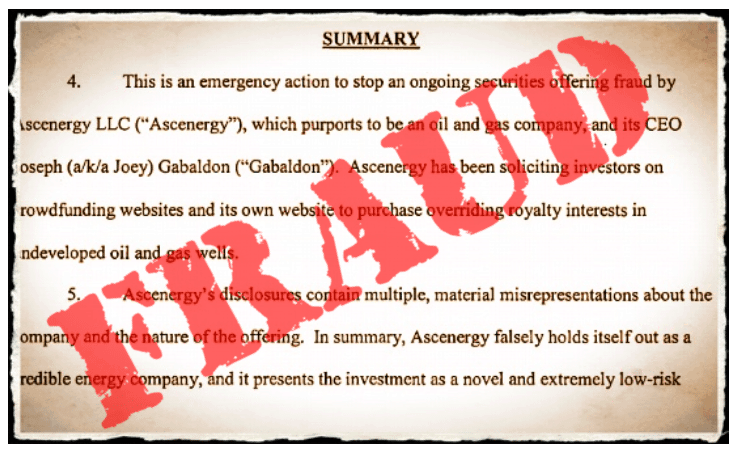 The case of the Ascenergy crowdfunding fraud came to light just as Reg CF or Title III crowdfunding rules were announced to the public in October of 2015.   Ascenergy, an aspiring oil and gas operation, had raised about $5 million from approximately 90 investors, some of them from outside the US. The fraud was committed by leveraging several well-known crowdfunding platforms operating in the Title II or accredited crowdfunding space. While numerous crowdfunding platforms dodged the bullet stating Ascenergy "screamed fraud," several were less scrupulous.
Following the funding round, Ascenergy thanked its investors stating;
"[we] are entering the next phase of our business by putting your investment capital to work: Leasing and drilling in the next couple of months to being providing your monthly returns in the first quarter of 2016."
As you may guess, no returns showed up in Q1.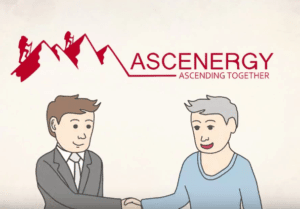 In fact, the money was quickly put to use, according to the SEC, but not for the advertised purposes. Joey Gabaldon, founder of Ascenergy, had apparently used some of the money for foreign trips, dining, dietary supplements, personal care products and a visit or two to the Apple Store. Only $2000 had been spent directly on oil and gas operations. Reportedly $1.2 million was siphoned off before SEC enforcement could move in.
The well-oiled wheels of justice do move slowly at times but the courts quickly froze Ascenergy assets.  Gabaldon and the SEC, via their attorneys, filed a Stipulated Joint Discovery Plan and Scheduling Order in January of this year outlining the process.  The SEC wanted more time to build their case.  Some witnesses were refusing to comply with subpoenas and international discovery takes some time. Gabaldon asserted his right against self-incrimination by taking the 5th.
This past June progress was made on the Ascenergy case and a judgment was announced. Ascenergy, Joey Gabaldon (and relief defendant Alanah Energy) were effectively barred from the securities industry with the Defendant neither admitting nor denying the allegations in the SEC complaint.  The judgment also required the Defendants to pay disgorgement of ill-gotten gains along with prejudgment interest and a civil penalty (not yet determined).
Hopefully, this is the last time we will hear from Joey Gabaldon.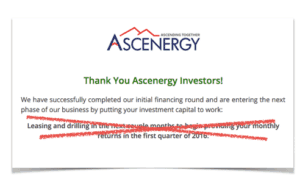 The fallout from the fraud generated a good deal of discussion and consternation within the investment crowdfunding sector in the US. There was significant chatter as to whether or not the SEC would take action against the platforms that accepted the Ascenergy offer. As time has moved on it appears the SEC thought it was best to take a pass. But SEC rhetoric did change. SEC Chair Mary Jo White has since stated on several occasions that platforms are expected to be the first line of defense in detecting fraud.  The message is clear to crowdfunding platforms. Crowdfunding is not like  Craigs List and a blind listing on a crowdfunding platform without any diligence will not be tolerated. Hopefully, the lesson has been learned.

Sponsored Links by DQ Promote