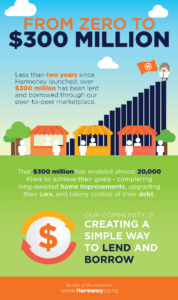 Harmoney, a New Zealand based peer to peer lending platform, has surpassed $300 million in lending just shy of their 2 year anniversary of consumer lending.
According to their website, Harmoney's bulk of borrowing has been for debt consolidation.  Interest rates start at 9.99% today. Lenders have averaged a realized return of  approximately 13% (net of fees and losses) since platform launch. Harmoney is the largest "Australasian" peer to peer lending marketplace providing loans from $1,000 and $35,000. The company is gearing up for growth in Australia.  Harmoney was launched with NZ $100 million of lending capital from institutions including Blue Elephant Capital Management & Heartland Bank. Heartland Bank is a shareholder in Harmoney.
Founded by Neil Roberts, he recently stated;
"Thousands of New Zealanders borrow and lend every day on the Harmoney platform and we have gone about building, launching and operating the platform in exactly the manner anticipated by the new legislation that made p2p platforms possible in New Zealand. Harmoney has built a highly transparent and interactive marketplace since it became the first operator in this new area of financial services in New Zealand."
As of March 2016, Harmoney reported a loss of $14.2 million before tax on revenues of $8.6 million.