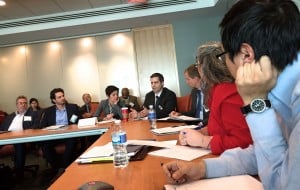 The Securities and Exchange Commission (SEC) has scheduled its annual "Government-Business Forum on Small Business Capital Formation for November 17th.  The event will he held at SEC HQ and will be open to the public.
As in years past, the forum will be divided into two sessions. In the morning there will be a panel discussion surrounding SME finance and specifically the JOBS Act.  In the afternoon, various groups will craft specific recommendations to improve on the SME environment in the US.
The complete agenda is not yet available but the SEC states it will become available in early November on the forum webpage. The survey for breakout groups sheds some light on the discussion though:
Regulation of Smaller Reporting Companies
Exempt Securities Offerings
Secondary Marketplace for Securities of Small Businesses
Everything kicks off at 9AM ET with opening remarks, usually from all of the current Commissioners. The morning sessions will be webcast live on the SEC's website.  Anyone wishing to participate in a breakout group either in person or by teleconference must register online by Nov. 11, 2016.
Members of the public are invited to make suggestions for recommendations or topics to be discussed at the forum by e-mailing the SEC's Office of Small Business Policy at [email protected].