Jay Clayton was confirmed by the US Senate last night to become the Chairman of the Securities and Exchange Commission. Clayton will become a member of the Commission for a term ending June 5, 2021. The vote in favor of Clayton's nomination came in at 61 yeas, 37 nays and 2 not voting.  Vote counts largely fell along party lines with several Democrats supporting the nomination.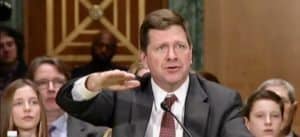 Clayton joins the US financial regulator at a pivotal time. The Trump Administration has emphasized the importance of regulatory reform noting that excessive regulations has undermined the financial industry thus harming both consumers and business. Clayton, largely unknown inside the beltway, has been a corporate attorney who has worked with many large, multi-national corporations.
FINRA, a hybrid regulatory group that works closely with the SEC, released a statement on Clayton's approval. Robert W. Cook, President and CEO of FINRA stated;
"FINRA would like to extend congratulations to Jay Clayton on his confirmation as SEC Chairman. Jay's broad experience and his keen understanding of capital markets and securities regulation will serve investors and market participants well as the SEC works to ensure that safe, strong securities markets remain a cornerstone of the U.S. economy. I look forward to working with him in his new role."
Current SEC Commissioner Michael Piwowar has been acting Chair during the transition period at the SEC. The Commission still is two Commissioners short of the mandated 5 seats. The Trump Administration has not yet selected individuals to fill these seats.