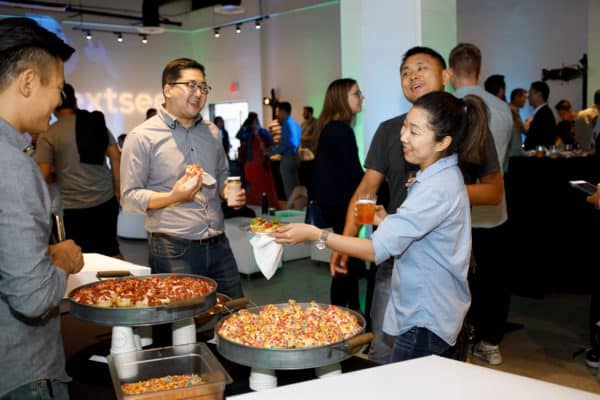 Earlier this week while reviewing the status of NextSeed's crowdfunding offers I noticed the company is expanding its physical presence beyond Texas. After confirming with the platform, NextSeed now has an office in both San Francisco and Los Angeles. Their HQ is based in Houston but management believes it is strategically important to have boots on the ground in California. As everyone knows, San Francisco is home to the most robust startup community in the world. The combination of deep entrepreneurial roots in Silicon Valley married with a huge venture capital sector that can provide early stage funding makes having a base of operation in SF a must.  Los Angeles has been moving up the entrepreneurial ladder as it is home to a burgeoning startup sector. Long overshadowed by the film industry, there is an increasing number of startups setting up shop in sunny southern California.
NextSeed LA was formally launched at IgnitedStudios last week. Investors and business owners gathered at the newly renovated event space on Hollywood Blvd. (the prime location was said to be empty for 30 years) to bring the NextSeed and LA community together to learn about new projects and crowdfunding in general.
NextSeed is also looking to build upon their "communities" approach similar to what they have done with a series of live events in Texas.
NextSeed is an interesting platform as it is debt-only crowdfunding (term & revenue based loans) targeting small business.  NextSeed was the first Reg CF portal approved by FINRA and the year since platform launch (as of June) the returns to investors are as follows:
Here are the annualized returns for each business that has started payments as of June 2017:
| | | |
| --- | --- | --- |
| Term Loans | Net Annualized Return (NAR)¹ | Amount paid as of June 2017 |
| The Snoring Center* (payments completed) | 11.16% | $110,109.10 |
| Square Rut Kava Bar* | 19% | $58,342.20 |
| Jenna's Asian Kitchen* | 16.53% | $42,695.24 |
| Peli Peli (payments completed)* | 16.82% | $409,511.97 |
| Smiley Transportation* | 10.11% | $21,616.56 |
| Vigilante Gaming Bar | 19.07% | $34,758.27 |
| Citizen Pilates | 15.96% | $19,570.32 |
| Rambler | 11.99% | $42,366.13 |
| | | |
| --- | --- | --- |
| Revenue Sharing Loans | Net Annualized Return (NAR)¹ | Amount paid as of June 2017 |
| Hair Revolution* (payments completed) | 7.29% | $26,250.00 |
| Chapman and Kirby* | 15.08% | $2,783.49 |
| The Sugar Refinery | 15.51% | $6,643.79 |
| The Native | 17.52% | $3,526.99 |
Sponsored Links by DQ Promote