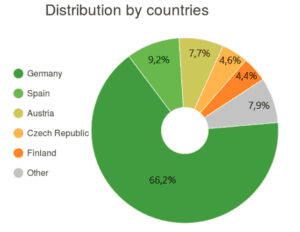 Robo.Cash, an automated peer to peer lending platform with a buyback guarantee, reports that July was a solid month for the online lender as investments jumped 30%. The young platform was launched in February.  In the first half of the year, Robo.Cash says that over 700 investors have signed up and 85,720 loans have been originated. In July, 187 investors joined the platform. Robo.Cash, part of a group founded by Sergey Sedov, specializes in pay day loans and Installment loans. Robo.Cash operates in the EU and offers interest rates on investments of up to 14% per year.
The total sum of attracted investments in July increased to more than €1.4 million, a 33% over the previous month when Robo.cash reached its first significant milestone by raising the first million Euro of investments. The average invested sum per investor is €3200.
The distribution between countries is as follows:
Germany investors backed 66.2% of the total sum
Spain – 9.2%
Austria – 7.7%
Czech Republic – 4.6%
Finland – 4.4%.
The top 5 countries by number of investors are Germany – 52.7%, Spain – 7.8%, Latvia – 5.9%, Austria- 5.4%, and Czech Republic – 5.0%.
"The P2P-market is undergoing significant changes at the moment. Despite the infancy of the legislative frameworks of the market in many European countries, there is a positive tendency to implement the best practices providing better investments safety. It encourages investors to draw closer attention to the promising European P2P-lending platforms that are gaining pace at the moment," stated Sedov.
Robo.Cash, based in Latvia, announced a collaboration with the Latvian Alternative Financial Services Association in July to support development of technology solutions and financial services outside the banking sector.

Sponsored Links by DQ Promote