ONE, the German Insurtech company, has thrown down the gauntlet claiming they will outgrow US based Lemonade in service growth.  Lemonade is one of the highest profile Insurtech platforms that is doggedly rolling out across the US. Starting first with homeowners / renters insurance, Lemonade is a digital only, user focused, platform that is on a mission to disrupt insurance as we know it. ONE, part of the Wefox Group, is apparently prepping to launch its Insurtech platform in September.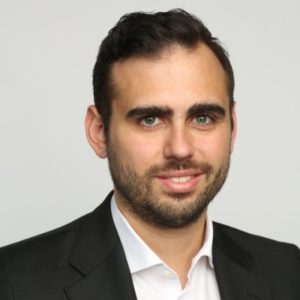 According to a post by ONE founder and CEO Julian Teicke, ONE will "outgrow Lemonade right from the start." Even more incendiary, Teicke is not overly impressed with the Lemonade offerings;
"While Lemonade has truly created an eye-opening and beautiful customer experience, not a lot of  true innovations are visible in their product," says Teicke. "Initially, their vision seemed to have been to create a P2P insurance company – we don't see any elements in their product where a group of individuals pool their premiums together to insure themselves against a risk. We also don't see true simplification in the insurance product itself. To be fair, in their last release, they have added some great product innovation: Adjusting insurance coverage in real time."
ONE wants to completely redefine insurance by "turning the insurance experience upside down." The company believes the "innate nature of insurance product needs to change fundamentally. No argument there. Teicke believes that soon enough the data required to calculate the price of actually exposed risk will be picked up real time.
"Initially, customers had to actively supply data by answering questions; once that was done, they would turn completely passive, not really caring about their insurance products in their everyday lives," explains Teicke. "ONE will radically change this; customers begin passive, as sensors collect all required data. ONE will then actively guide customers' daily decisions."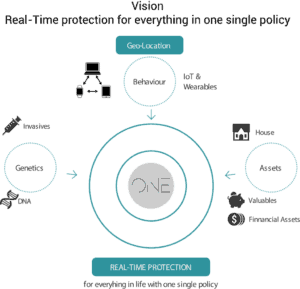 That is pretty interesting. Honestly, for someone like me who has a tendency to lean towards high risk activity, perhaps a bit concerning. Regardless, Teicke believes ONE is the one Insurtech to rule them all. Insurance will be an integral part of our daily lives.
As for the fighting words with Lemonade, ONE points to the fact that Lemonade launched in New York State that only has a population of about 20 million (Lemonade has since added more states). ONE will start in Germany with a population of 82 million. ONE will then add Switzerland and Austria to the list of countries and then, over time, cover all of Europe. ONE is international, Lemonade is currently US only.
ONE believes its model is intrinsically more scalable too. Teicke states;
"Of course both companies, ONE and LEM, aim to outperform the existing market. ONE has a scalable operating model with service levels,contractually agreed upon with select external partners. Lemonade seems to be playing with inconsistent messages and claims: claims that are handled in mere seconds via fast AI (artificial bots intelligence), Guinness Book of Records entries, but also current LAE (loss adjustment expenses) of 450% (source Insurance Times). ONE, on the other hand, is predicted to have solely 5,5%! What's more, an excellent claims ratio will act as a pillar of ONE' success, in contrast, LEM seems able to accept a 211% loss ratio (source Insurance Times)."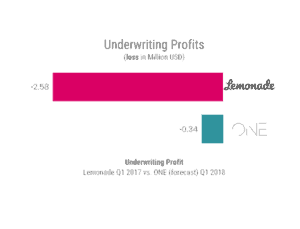 Ouch.

Teicke also throws shade at Lemonade's Give Back model.

Regarding Lemonade's burn rate, Teicke says that Lemonade is losing $38 for every $1 of revenue. ONE is planning a far more "disciplined" launch that will lose less out of the gate.

So what does this all mean? Little really. At least for now.

But you can expect ONE to cross the Atlantic at some point down the road and challenge Lemonade. It is not yet clear if Lemonade has a European invasion in its roadmap. For now, both companies have plenty of more traditional insurance companies to conquer.

Sponsored Links by DQ Promote