Less than a month after Funding Circle announced the new versions of its existing Autobid and Autosell lending tools, the online lender revealed the new changes have officially gone into effect. It was revealed in a blog post on Monday:
"Last month we announced plans to launch an improved and upgraded version of our existing Autobid and Autosell lending tools, and the decision to withdraw the option to manually choose which businesses to lend to and sell. Today these changes have come into effect, and we're pleased to launch our new lending experience to make lending through Funding Circle simpler, better and fairer for all investors."
As previously reported, as part of these changes, Funding Circle will be eliminating the option to manually choose which businesses an investor may lend to and which loan parts to sell will be withdrawn. This is a significant shift in operation of the peer to peer lending platform as it begins to operate more like a fund. With the changes, investors will be able to choose one of two lending options based on their personal preference. Both options will be available for the Funding Circle ISA, which the platform intends to launch later this tax year. According to Funding Circle, the two options are as follows:
Balanced: Users will automatically lend to the full range of creditworthy businesses (A+ to E), aiming to achieve an attractive, stable return. This will allow users to build a balanced portfolio similar to the makeup of small businesses in the UK today.
Conservative: Users will focus on lending to businesses that have been assessed as lower risk (initially A+/A) but with a lower projected return.
The new rates are as following: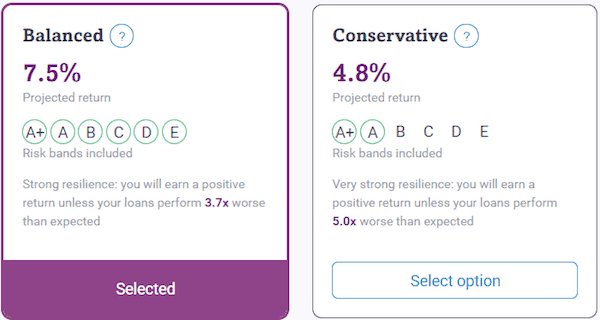 Funding Circle also revealed:
"The rates shown are the projected returns, after fees and bad debts (but before tax), that a diversified investor could earn with either lending option. These rates may change over time, and your actual return may be higher or lower. Remember, by lending to businesses your capital is at risk."
The online lender also reported the following:
If the customer used Autobid: Which lending option you have been transitioned to. You are now lending to businesses through your preferred option and do not need to do anything.
If the customer didn't use Autobid:  How to 

login to your account

 and select your preferred lending option. You will need to select a lending option if you would like to continue lending to businesses, although you will continue to receive repayments from your existing loan parts if you don't select an option.
Other updates to the investor accounts also include:
Customers can now manage your portfolio from your new Lending settings page 
Customers can sell loan parts quickly and easily 
The loan request and loan parts page has been withdrawn
The platform went on to add:
"Your new lending experience will make lending through Funding Circle simpler, better and fairer for everyone, and we hope you continue to enjoy lending through Funding Circle."
Sponsored Links by DQ Promote