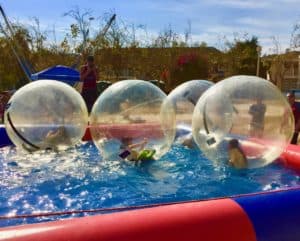 CBInsights is out with an interesting report on Blockchain and associated trends which tackles the booming Initial Coin Offering (ICO) market.  According to the report, ICOs have raised more than $2 billion in 2017 and the upward trajectory shows no signs of slowing as long as regulators don't hit the breaks too hard. The authors report that on a quarterly basis, total funds raised by ICOs surpassed total funds raised via traditional equity financing for the first time in Q2'17.
While traditional equity funding rounds continue to rise the hot ICO market appears to be impacting venture as the money moves to what seems to be working better. CBInsights explains that more VC firms and hedgies are backing ICOs and this could be a sign of growing institutional interest. More than 250 blockchain teams have completed ICOs since January 2016, with more than half  raising during or after July 2017 representing a dramatic leap higher in the past few months
As an example of the Tulip like market of crypto, CBInsights points to the fact that $100 invested in Bitcoin back on January 1, 2011 would be worth almost $1.5 million today. Just think of all the crypto-millionaires minted by digital coins.
The majority of ICO funding has gone to big name tokenized offerings including the following:
Tezos
Bancor
Filecoin
SONM
Golem
But cryptocurrency returns are both "difficult for VCs to ignore and difficult to capitalize on". What do you do with a utility coin?
More corporates are investing in the sector, with the number of active corporate investors rising to a new high of 91 during the year.
Since 2014, more than 50 of the worlds largest financial services firms have invested in Blockchain as the value of distributed ledger technology has become apparent.
More corporates are starting to invest in the sector, with the number of active corporate investors rising to a new high of 91 in 2017 YTD.
Blockchain has caught the imagination of just about every financial firm that is not stumbling through life. While the winners are still not clear the value is certain. Crypto and ICOs are a bit more murky. Regulatory questions linger as public officials seek to catch up to a world driven by digital currency that is difficult to track.
The CBInsights report is available here for download once you hand over your email address.