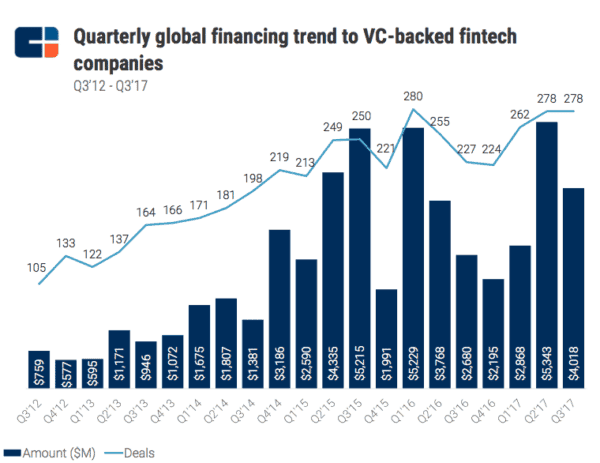 CBInsights has published their Q3 report on the global Fintech sector. According to their research, VC backed Fintech firms raised $4 billion into 278 deals during the quarter. While the number of deals held steady, the funding amount dipped from Q2 2017 which was a record quarter.
Here are some bullets from the report:
Today there are 25  Fintech Unicorns valued at $75.7 billion in total. It is interesting to note that Coinbase joined the Unicorn herd with a valuation of $1.56 billion. Prosper, previously valued at $1.77 billion did a down round at a valuation of $550 million
There were 18 $50 million plus funding rounds during the quarter. This ties the high water mark of Q2 2017
US Early stage Fintech deals dropped to a five quarter low. On the other hand, European Fintech deals set an annual record with 216 deals valued at $1.8 billion
Asia is on pace for another record for the year. Total Fintech deals hit 203 just short of 2016 of 2013, a record year. At the current run rate, VC Fintech deals will jump 29% from year prior.
The US, once again, is seeing a slowdown as Fintech deals may drop below 2014's total. US Fintech deals could beat 2016 but is predicted to fall short of 2015 when $8 was raised.
Annually, 2014 was the big year in total Fintech funding at $14.1 billion.
The Most active VCs in Fintech were 500 Startups and Ribbit Capital over the last 5 quarters
On the Unicorn list, Lu.com, Stripe, One97, SoFi and Greensky received the largest valuations.
In the US, Q3 saw six $100 million plus VC backed Fintech deals led by Kabbage.
The report in its entirety is available here.

Sponsored Links by DQ Promote