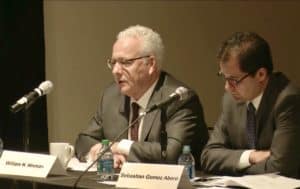 Speaking at the annual SEC Forum on Small Business Capital Formation, William Hinman, Director of Division of Corporation Finance at the SEC, said there are more enforcement actions coming when it comes to Initial Coin Offerings (ICO). Hinman, a former Silicon Valley based corporate attorney, did not mince words stating issuers should be "thoughtful" in launching an ICO. His statement should come as no surprise as the SEC has been heavily messaging their intent to go after ICO issuers who do not file for an appropriate exemption. While some ICOs may receive a pass before the SEC filed the DAO report this past summer, anyone who issued an ICO following that event without an exemption is fair game and may find themselves under the scrutiny of the SEC Enforcement Division.
Most legitimate ICOs that are seeking US money are currently submitting either a Reg D, Reg A+ or Reg CF filing with the SEC. Other ICOs appear to be denying access to US based investors. SEC Chair Jay Clayton commented recently, "I have yet to see an ICO that doesn't have a sufficient number of hallmarks of a security," delivered in the middle of a speech at the Institute on Securities Regulation in Manhattan.
Hinman added that additional reports on ICO are forthcoming – perhaps creating a bright line definition of when an ICO is a security and when it may be considered a Utility Token.