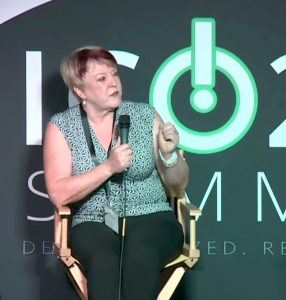 The Securities and Exchange Commission (SEC) has scheduled its first meeting for 2018 of the Investor Advisory Committee (IAC). The Committee helps to guide the SEC on initiatives that protect individual investor interests. In practice, this largely means investor protection issues.
The upcoming meeting includes several panels including one on fraud and the other on "vulnerable adults." The first panel may be of interest as Sara Hanks, CEO of Crowdcheck and Cromwell Coulson, CEO of OTC Markets, are participating. Both individuals have been highly engaged in the alternative finance space.
The meeting, which is open to the public, will be live-streamed on the SEC web site.
The agenda is published below.
---
9:30—10:00 a.m. – Welcome Remarks and Approval of Minutes of Previous Meeting
10:00—11:30 a.m. – Discussion of Regulatory Approaches to Combat Retail Investor Fraud
R. Cromwell Coulson, President, Chief Executive Officer and Director, OTC Markets Group
Sara Hanks, CEO, CrowdCheck, Inc.
Melissa Hodgman, Associate Director, Division of Enforcement, SEC
Christian Leuz, Joseph Sondheimer Professor of International Economics, Finance and Accounting, Booth School of Business, University of Chicago
Lori J. Schock, Director, Office of Investor Education and Advocacy, SEC
11:30—12:00 p.m. – Discussion Regarding Cybersecurity Risk Disclosures (which may include a Recommendation of the Investor as Owner Subcommittee)
12:00—1:40 p.m. – Lunch/Non-Public Administrative Session
1:40—2:00 p.m. – Discussion Regarding Financial Support for Law School Clinics that Support Investors (which may include a Recommendation of the Committee as a Whole)
2:00—2:30 p.m – Discussion Regarding Dual-Class Share Structures (which may include a Recommendation of the Investor as Owner Subcommittee)
2:30—4:00 p.m. – Discussion Regarding Efforts to Combat the Financial Exploitation of Vulnerable Adults
Gregory J. Dean, Senior Vice President of Government Affairs, FINRA
Mark LeDuc, Majority Chief Counsel, United States Senate Special Committee on Aging
Robert E. Roush, Director, Texas Consortium Geriatric Education Center
Judith M. Shaw, Maine Securities Administrator and Co-chair of the Maine Council for Elder Abuse Prevention
4:00—4:15 p.m. Subcommittee Reports

4:15 p.m. – Adjourn

Sponsored