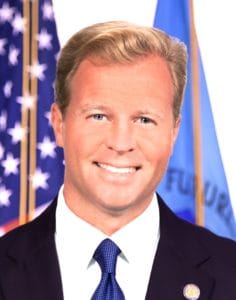 Commodity Futures and Trading Commission (CFTC) Commissioner Brian Quintenz commented on cryptocurrency enforcement actions this week. During a speech delivered to the FIA's 40th Annual Law and Compliance Conference, Quintenz noted that the CFTC Crypto task force is coordinating with their counterparts at the Securities and Exchange Commission;
"… in the cryptocurrency space, the CFTC has formed an internal cryptocurrency enforcement task force to develop the necessary expertise to prosecute fraud in this evolving asset class," said Quintez. "The task force shares information and works cooperatively with counterparts at the SEC with similar virtual currency expertise.  Both agencies' Divisions of Enforcement have demonstrated their commitment to work closely to prosecute fraud and ensure that differences in product nomenclature do not enable bad actors to slip through jurisdictional cracks.  Over the past several months, the CFTC has worked closely with the SEC in bringing civil enforcement actions against fraud, market manipulation and disruptive trading involving virtual currency.  Finally, with respect to jurisdictional considerations, the CFTC has been, and continues to be, in close communication with the SEC."
Obviously there is a degree of overlap between the two financial regulators and it certainly makes sense to collaborate when needed. While the two federal agencies may be at slight odds when it comes the regulatory approach of crypto as the CFTC has been vocally promoting self regulation, both agencies have been aggressive in pursuing clear acts of fraud when it comes to scam initial coin offerings and other cryptocurrency related infractions.
Quintez said the CFTC and SEC are working to update a memorandum of understanding to better outline the sharing of information. The MOU was originally crafted during the Dodd-Frank era some years back. Today, in an internet driven securities world, it simply makes sense to update procedures.
The Commissioner also referenced, once again, the fairly new "Technology Advisory Committee" or TAC.  The TAC has four subcommittees to provide actionable advice regarding cryptocurrencies, distributed ledger technologies (blockchain), cybersecurity, and the modern trading environment. 
It has been reported that the CFTC and SEC are currently working to better align their regulatory posture regarding crypto and ICOs.