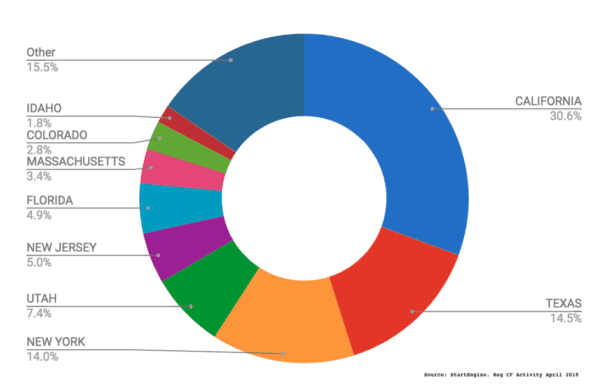 StartEngine posts a weekly blog update regarding the state of Reg CF (or Regulation Crowdfunding).  This is the smallest of the three crowdfunding exemptions and allows companies to raise up to $1.07 million. While the industry is still maturing, and expectations are for Congress to increase the cap from its rather anaemic ceiling, crowdfunding platforms have continued to adapts and find ways to work within the rules.
StartEngine notes that to date, Reg CF issuers have raised $107.3 million. Last month (April), companies raised just shy of $8 million while 58 new filings were posted by the SEC. Interestingly, a single county is a standout in the Reg CF space Los Angeles county is at the top of the list when it comes to utilizing this exemption. Second place goes to Travis County where Austin, Texas is located – a noted startup hub. But overall, 95 Reg CF offerings have originated in LA with just 15 in Austin. In total, LA County has raised $10.9 million while Travis County has funded $6.4 million.
Overall, California, followed by Texas and New York are the top states where Reg CF is utilized. The Golden State has captured a whopping 30% of all Reg CF offerings. But then that should not come as a surprise due to the active entrepreneurial scene in the various urban centers.
Regarding the top three Reg CF campaigns during April, they are as follows:
WorldViz – $1.076 million – SeedInvest
Gulf Coast Canna Meds – $1.07 million – TruCrowd (Fundanna)
Bravery Chef Hall – $1 million – NextSeed
If a campaign raises more than the $1.07 cap, most platforms will reach out to investors and ask the accredited individuals to invest under Reg D 506c. In fact, SeedInvest is doing most all of their Reg CF funding rounds paired with a Reg D.

Sponsored Links by DQ Promote