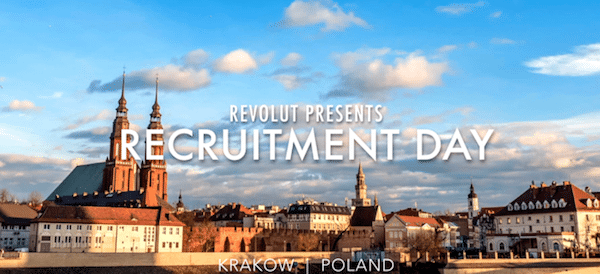 UK-based fintech Revolut announced earlier this week it is looking to expand its personnel by hiring 100 people in ONE single day in Kraków, Poland. The company's upcoming "Recruitment Day" in the polish city will take place on June 9th (this Saturday). It was revealed:
"So when it comes time to recruit some superstar team-players to join Revolut and help us continue to change the way people interact with their money, we're definitely not going to keep it small. Shout it from the rooftops because we'll be looking to hire 100 people in a single day – because that's how we roll."
Revolut also reported that a few months ago, it had around 100 support agents working around the clock, as it introduced its 24/7 customer support to all users and since then, it has hired more than 100 new agents.
"This year, we have big plans to take over the world as we expand globally – but it's our people who really make us who we are. So, without further ado, we want you to…Join the Revolut-ion. We have vision, dedication, we rise to any challenge and we see things differently. We're problem solvers, innovators and if our customers talk, we listen. It's because of our dedicated teams, that we can continue to deliver an amazing product, as our community grows each day. But to meet our ever evolving needs and to make sure that our customers are never treated as 'just a number', we need people like you!"
Meanwhile, CEO of UK Fintech startup Revolut, Nik Storonsky, announced the company is now making plans to apply for a banking license in the U.S. Revolut has also increased customer acquisition by over 300% to over 2 million customers.

Sponsored