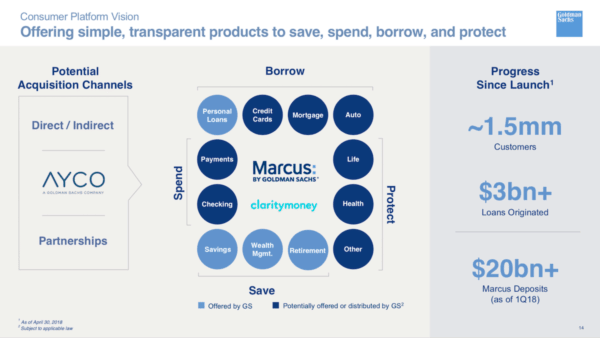 While Goldman Sachs'  (NYSE:GS) most prominent foray into Fintech started with online lending, Marcus is poised to become so much more in the digital banking arena.
As previously reported, Marcus zoomed into online lending fueled by consumer deposits due to an acquisition from several years back. The deposits provided exceptionally low cost capital that enabled the lender to quickly originate $3 billion in consumer loans. But this is just the beginning.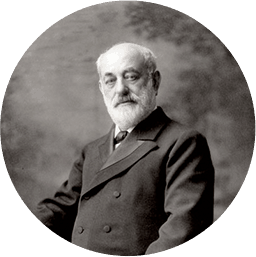 Marcus, effectively a consolidated challenger bank brand, has access to over $20 billion in deposits and is probably growing at a steady clip due. Consumer online lending was the low hanging fruit to which Marcus could cut its Fintech teeth and now they are sizing up other verticals.
As quoted in Bloomberg, David Solomon, President of Goldman Sachs, explained;
"We don't have to be one of the big leading consumer banks … we can have a narrow slice of share and have a very big, very profitable, very differentiated business over a period of time. We're building it as a platform for Goldman Sachs over the next 50 years."
Modesty aside, Goldman is building the money centre bank of the future, created to eat JPM and Citi for breakfast. Marcus has no ball and chain branch system, no legacy tech on green screens, and no layers of banking committees to agonize over decisions that will lead to fewer employers. Traditional money centre banks are not too big to fail, they are too big to succeed.
Traditional money centre banks are not too big to fail, they are too big to succeed. #Fintech
Click To Tweet
So whats in the queue for digital bank Marcus?
A recent presentation sizes up the opportunity and provides a roadmap of sorts. Marcus is divided up into four different strategic foundations: Borrow, Spend, Protect, and Save. Within these four categories are just about everything you will ever need regarding financial services from cradle to grave. They (obviously) include wealth management, insurance, credit and digital consumer banking services (aided in part by the recent Clarity Money acquisition). And rest assured, this digital bank will be a global venture.
This is an easy question but don't look to the continental 48 for the answer. Alibaba has provided a prime example with their Ant Financial brand that, with its most recent funding round, is valued at about $150 billion, almost double ($88 billion) the entire family of Goldman Sachs operations.