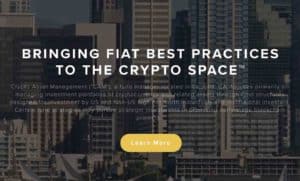 The Securities and Exchange Commission (SEC) has taken its first-ever enforcement action against a hedge fund manager based on its investments in digital assets.
The SEC has issued an Order finding Crypto Asset Management LP (CAM) as operating as an unregistered investment company. The SEC says that CAM "falsely marketing it as the first regulated crypto asset fund in the United States."
The sole principle of the California based hedge fund manager, Timothy Enneking, was said to have raised over $3.6 million from 44 investors during a 4 month period in 2017. Enneking allegedly told investors the fund was regulated by the SEC and he had filed a registration statement with the agency. After being contacted by the SEC staff, CAM apparently ceased its public offering and offered buy backs to affected investors.
CAM and Enneking agreed to the SEC's cease-and-desist order and censure without admitting or denying the findings against them. Enneking has agreed to pay a penalty of $200,000.
C. Dabney O'Riordan, Co-Chief of the SEC Asset Management Unit, said that hedge funds seeking to ride the wave of digital assets continue to proliferate. O'Riordan's statement comes as an ominous warning to other digital asset funds.
"Investment advisers must be sure that the funds they offer adhere to the applicable registration obligations and must accurately represent their funds' regulatory status to investors," said O'Riordan.
Sponsored Links by DQ Promote