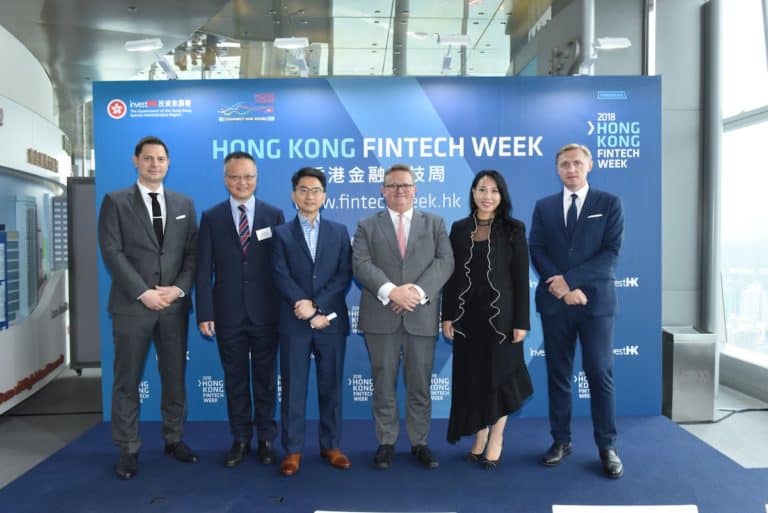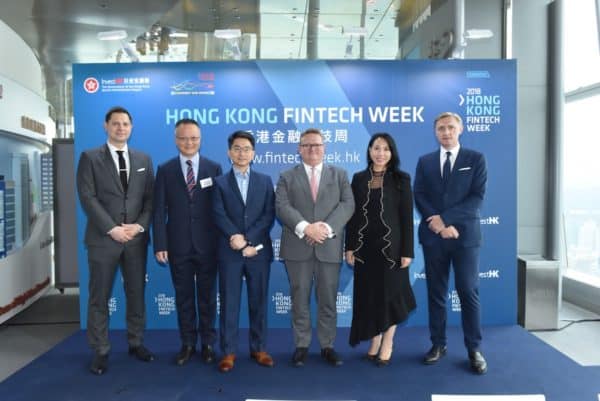 Invest Hong Kong (InvestHK) has shared details of its 3rd annual Hong Kong Fintech Week. The private – public partnership event which seeks to promote Hong Kong's prominence in the fast evolving Fintech sector will be a bit different this year. For 2018, HK Fintech Week will straddle Hong Kong and Shenzhen to be the world's first cross-border Fintech event. InvestHK says the event will  highlight the hottest industry developments along with the potential of the Guangdong-Hong Kong-Macao Greater Bay Area.
Key Fintech Week partners include the Hong Kong Monetary Authority (HKMA), the Securities and Futures Commission (SFC), the Hong Kong Insurance Authority and Hong Kong Exchanges and Clearing Limited.
On the private industry side, partners include AMTD Group, Standard Chartered and Citi, Bay Area Fintech partner Tencent and event organiser Finnovasia.
Topics high on the list for the event include blockchain (distributed ledger technology), virtual banking, trade finance and  much needed API interfaces.
Recently, it was reported that 29 entities had applied to become the first companies to receive virtual banking licenses in Hong Kong.
Fintech in China and the Greater Bay Area will focus on artificial intelligence (AI) and blockchain.
Regtech, supervisory technology and cyber security is also said to be featured heavily, while Insurtech, Wealthtech and digital payments will be discussed as well.
Director-General of Investment Promotion at InvestHK, Stephen Phillips said the Fintech developments in Hong Kong have been phenomenal.
"They reflect the dynamic nature of the city and our strategic advantage of being right at the doorstep of China's vibrant Fintech scene."
The Chief Fintech Officer of the HKMA, Nelson Chow, commented on the fact this is the the 3rd year they are co-organizing Hong Kong Fintech week and the first year it is crossing the border into mainland China;
"We believe that this cross-border event will become a powerful conduit to foster development and application of Fintech in the Greater Bay Area, and at the same time strengthen Hong Kong's role as a springboard for Mainland Fintech firms to 'go global', and for global Fintech firms to enter the Mainland market."
The Head of Fintech at InvestHK, Charles d'Haussy, introduced updated Fintech HK branding which highlights Hong Kong's positioning in the region. d'Haussy said the new branding presents Hong Kong as intrinsically Fintech with the new logo reflecting Fintech as an integral part of the fabric of this city.
"That's the reality; that's the message."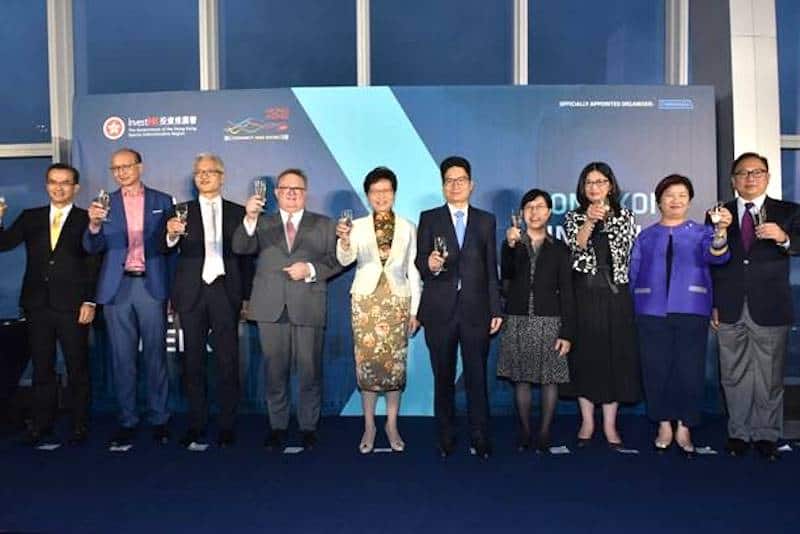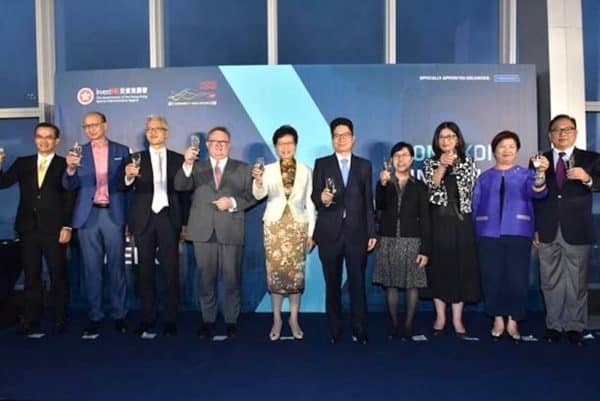 ---
While Hong Kong may have been slow out of the gate in embracing the Fintech revolution, the concerted effort by HK public officials and established finance has seen the region's prominence rise in regards to financial innovation. d'Haussy added that Hong Kong is the ideal place for a Fintech company to launch their business in Asia.
Hong Kong Fintech Week will run from October 29 to November 1 at the Hong Kong Convention and Exhibition Centre, before moving to Shenzhen on November 2. Organizers expect more than 8000 attendees including regulators, investors, academics and more than 200 founders from the world's top Fintech companies.
Days one and two of Fintech Week will see the demo-based FinovateAsia 2018 take place, which is returning to Hong Kong for the third year running.
Alongside it will be satellite events taking place around the city, including an innovation lab tour and education events organised by universities and academic institutions.
On days three and four, the main activities will comprise various speeches, panel discussions, fireside chats and workshops.
On day five, Fintech Week will move to Shenzhen for a networking lunch with government officials, senior company executives, venture investors and Fintech founders. That will be followed by in-depth visits to the headquarters of WeBank, Tencent and ZhongAn. During Shenzhen Day, participants will be able to meet key Mainland players to explore potential business opportunities and make use of Hong Kong's vital position and appeal as a key entry point to the Greater Bay Area.
The Fast Track Program will offer selected overseas companies on-site consultations with Hong Kong regulators and training workshops on how to start and scale their Fintech businesses in Asia.
The FinTech Deal Floor will include a variety of activities, including the chance to meet some of the leading Fintech start-up unicorns, along with some of the region's most active investors and business-matching.
Keynote speakers and panelists will include leaders from Lufax, WeBank, Ant Financial, Tencent, JD Fintech Institute, Ping An (Mainland China), R3 (US), Grab Financial (Singapore), Fidor Bank (Germany), WeTrade (Ireland), Tinkoff Bank (Russia), Revolut (UK) and NuBank (Brazil).
"It's going to be the world's first cross-border Fintech Week full of exciting events across Hong Kong and Shenzhen. We are bringing over 200 world-class speakers with 100 hours of high-quality content, including founders and CEOs of over 12 unicorns and some of the fastest growing companies around the world," stated Anthony Sar, CEO of Finnovasia.
Sponsored Links by DQ Promote