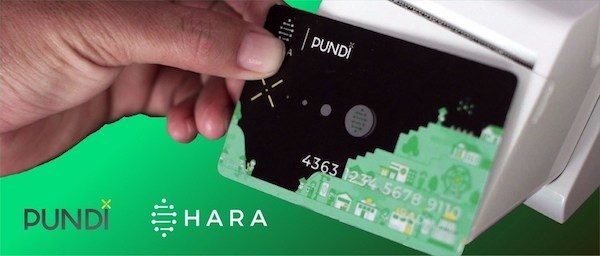 Pundi X (CURRENCY: NPXS), an Indonesia-based global developer of blockchain-powered devices, announced on Thursday it has partnered with HARA, an Indonesia-based company that is dedicated to revolutionizing global agriculture with data, to deploy thousands of blockchain-based point of sales (POS) devices to farmers to facilitate data collection and financial inclusion across developing economies.
According to Pundi X, HARA collects real-time data from across the agricultural and food value chain in developing markets to boost productivity, profits, and livelihoods for farmers and employees. Farmers, NGOs, and other on-the-ground partners are incentivized to provide data on ecological, crop, and market conditions with HARA Tokens, which can, in turn, be monetized.
As part of the partnership, The Pundi X POS, a point of sales device enabling transactions in digital currencies, will be used by farmers to collect and exchange these incentives. Pundi X noted that its XPOS will be deployed initially across Indonesian villages at an approximate density of one device for every 200 farmers in participating areas. The HARA-Pundi X partnership will also help promote financial inclusion among farmers who can use the blockchain-based POS independently of financial institutions.
While sharing more details about the partnership, Constantin Papadimitriou, the President and co-founder of Pundi X, stated:
"A founding aim of Pundi X was to bring the benefits of blockchain technology and digital payments to the unbanked and to promote financial inclusion and independence. We are proud that the Pundi X POS will soon be rolled out among HARA's already-impressive network of farming partners and can help facilitate their plans to better such a significant sector of the world economy and the lives of the hundreds of millions of people who depend upon it."
Regi Wahyu, the CEO and co-founder of HARA, also commented:
"HARA has dedicated itself to connecting the missing pieces in global agriculture for the benefit of everyone involved in the supply chain. The data we are already collecting from farmers brings benefits to transportation, to consumers, to commercial interests and to governments. The addition of the Pundi X POS to our ecosystem allows us to connect another missing link, which is the processing of digital payments for the large unbanked populations in global agriculture we're aiming to serve."
The partnership with HARA comes just a little over a month after Pundi X announced its new blockchain-based OS and communication protocol for mobile devices, allowing users to make calls, send messages and transmit data via a fully decentralized blockchain network.

Sponsored Links by DQ Promote